Liaoning flotilla welcomes public for HK celebration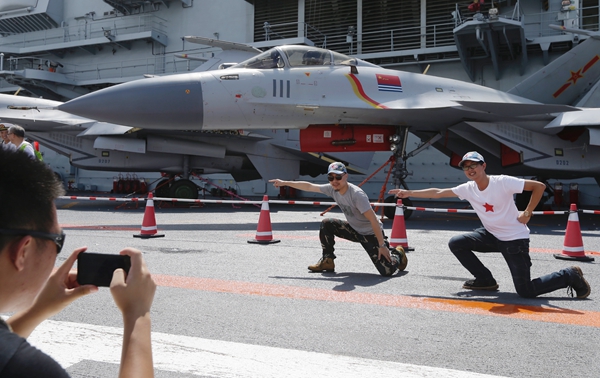 Visitors signal "takeoff" on the deck of China's first aircraft carrier, the CNS Liaoning, on Sunday, the last day of the open house of the carrier's flotilla in Hong Kong.Roy Liu / China Daily
Hong Kong beamed with patriotic pride as residents thronged to experience the open house of China's first aircraft carrier over the weekend.
The CNS Liaoning arrived on Friday in Hong Kong marking the 20th anniversary of the People's Liberation Army being stationed in the Hong Kong Special Administrative Region, and it opened to the public for visit for the first time on Saturday and Sunday.
Two thousand permanent residents of Hong Kong, along with another 1,600 tickets for members of the city's various organizations, were able to go onboard for a one-hour tour of the nation's most advanced aircraft carrier.
The 60,900-metric-ton vessel was greeted with enthusiasm by people of all ages. Some young parents brought their children.
A sudden downpour on Saturday morning did not dampen the public's high spirits. Crowds formed long lines at the pier in Central, Hong Kong Island, to take the shuttle ferry the carrier. The visitors received a souvenir package which included an army cap embroidered with Chinese characters reading PLA naval ship Liaoning.
The carrier, whose flight deck is about the size of three soccer fields, can carry more than 30 J-15 fighter jets and several helicopters.
J-15 pilots are required to have at least 1,000 flight hours so that they can manage the physical and mental stress of taking off and landing the aircraft on the carrier's flight deck.
Xu Ying, chief of a PLA Navy J-15 squadron, said he felt fortunate as a soldier to have come to Hong Kong to witness the great achievements the special administrative region has made.
For people in Hong Kong, it was a precious opportunity to get an up-close look at the Liaoning, boost their understanding of the country's defense development, and strengthen their confidence and national esteem, Xu said.
Coco Tai Tze-wan, a teenage secondary school student, went with her mother to visit the carrier. "I used to think only in my dreams could I board the Liaoning and see it with my own eyes. Now the dream has come true. Though I spent only an hour on the ship, I felt satisfied," Tai said.
Accompanying the Liaoning, the frigate Yantai and destroyers Jinan and Yinchuan docked in the PLA Hong Kong Garrison's naval base on Stonecutters Island, and they were also open to the ticket-holders to visit.
Their presence at the base coincided with the PLA Hong Kong Garrison's open days at its three barracks, including the naval base, on Saturday and Sunday.
Before the flotilla sets sail from the city on Tuesday, its crew members, together with representatives of the PLA Hong Kong Garrison, are scheduled to pay a visit to a nursing home on Monday, among other local activities celebrating the 20th anniversary of the PLA being stationed in Hong Kong.