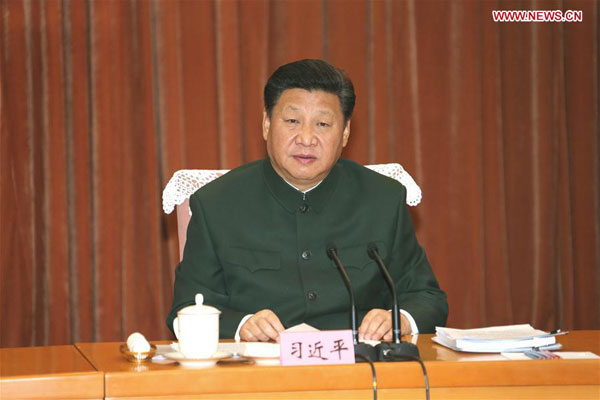 Chinese President Xi Jinping, also general secretary of the Communist Party of China Central Committee and chairman of the Central Military Commission (CMC), makes remarks during a meeting with the new heads of the reorganized organs of the CMC in Beijing, Jan 11, 2016. [Photo/Xinhua]
BEIJING -- China has reorganized its four military headquarters -- staff, politics, logistics and armaments -- into 15 new agencies under the Central Military Commission (CMC).
The new structure includes six new departments: joint staff, political work, logistical support, equipment development, training, and national defense mobilization. There are three commissions -- discipline inspection, politics and law, and science and technology -- as well as the general office and five more: administration, auditing, international cooperation, reform and organizational structure, and strategic planning.
Chinese President Xi Jinping, also general secretary of the Communist Party of China (CPC) Central Committee and chairman of the CMC, met with the new chiefs of each agency on Monday. He described the reshuffle as "a breakthrough" and "a crucial step" toward a stronger military.
CPC'S ABSOLUTE LEADERSHIP
Xi urged military leaders to unswervingly follow the CPC's absolute leadership over the armed forces.
He stressed that military leaders must adhere to the Party spirit, obey political discipline, and "be politically intelligent," with firm political faith and right political stance.
Military leaders need to sharpen their political alertness and become better at discerning right and wrong in political matters, Xi added.
Xi urged them to "frequently, actively and resolutely" align their direction with the CPC Central Committee and the CMC.
Following the unified leadership of the CMC is the political principle and discipline that military leaders must obey, Xi said, adding that military leaders should also take responsibility for their respective jurisdictions under the unified leadership of the CMC.
FOCUSING ON WINNING WARS
Xi also urged the reorganized organs of the CMC to focus on winning wars as their central task.
CMC organs must concentrate on the study of military affairs, wars and how to fight battles, and strengthen their awareness in preparing for war at any time, said Xi.
CMC organs must measure their work by the only fundamental standard of whether troops' fighting abilities can be improved, he added.
Xi urged the organs to lose no time in adapting to changes in their operational command system and building themselves into a smooth-running and effective joint command system.
He also urged the organs to initiate a "learning revolution," liberate their minds and enhance their study efforts on warfare readiness.
PARTY DISCIPLINE
Xi told the leaders of the organs to be demanding with themselves and impose strict self-discipline to set excellent examples for all servicemen.
Leaders of CMC organs must be loyal, clean and responsible, and consciously regulate their behavior by the Party's rules and discipline, Xi said.
They must be determined to overcome formalism and bureaucracy, as indicated by excessive meetings, redundant paperwork, unnecessary appraisals and inspections, Xi said.
Xi said leaders of the CMC organs should set an example in carrying forward the glorious tradition of the armed forces and stimulate vigor and innovative vitality in servicemen.
Leaders of CMC organs must draw a profound lesson from the corruption cases of Guo Boxiong and Xu Caihou, both former vice chairmen of the CMC, and take a clear-cut stand against corruption, he added.
They must proactively cultivate an honest and upright political ecology so that all officers and soldiers can see a bright new image of the CMC organs and feel the "positive energy," Xi said.
To address military corruption, a military auditing office was established to organize and guide internal audits and supervision. Auditors will be directly sent by the office to various military departments to ensure their independence, said Wu Qian, spokesman for the Ministry of National Defense, at a press conference on the reforms on Monday.
Wu said the multi-department structure will help the CMC function better and is conducive to consolidating the absolute leadership of the Party over the armed forces.
The new structure will also help the 15 organs carry out strategic planning and administration and help strengthen the supervision of powers, said Wu.
He also elaborated on the duties of the 15 organs. He noted that the key Joint Staff Department is in charge of military operation planning, command and control, studying and formulating military strategies, and assessing operational capacity, among others.
With regard to the new office for international military cooperation, Wu said it demonstrates that Chinese troops are committed to expanding international communication and cooperation and safeguarding world peace and stability.