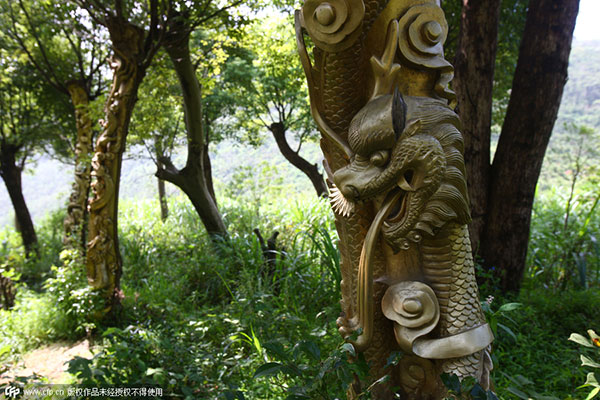 The carved trees with dragon patterns. [Photo/CFP]
Carving dragons on living trees
More than ten camphor trees have been carved with dragon patterns and gilded with golden paint on the road side in Xiangshan county, Ningbo, Zhejiang province, reported CFP.com on Wednesday.
Wood carving is usually carried out on dead wood rather than living trees.
Before the carving in Zhejiang, branches were cut off from the trees, but the trees will still grow new branches after the carving.
According to the owner, he owns all the trees and can do what he likes with them. It takes workers a hundred days to finish carving one tree. And the mortality rate of the carved trees is quite high.
"Some people protested that carving on living trees is a cruel art," the owner of the land said.
That's all for today's trending, do check back tomorrow for more stories from around China!