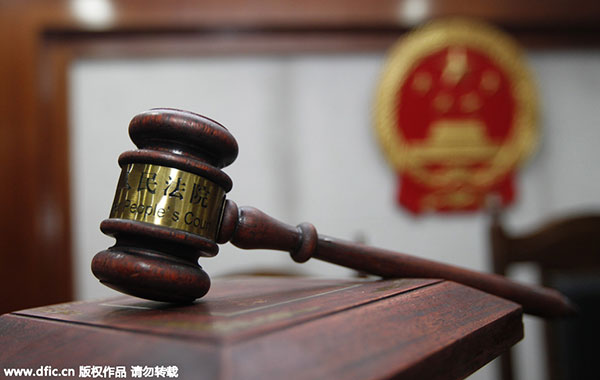 A gavel in a court. [Photo/IC]
Chinese judicial bodies said they will continue to implement the principle of not making judgments in cases without strong evidence, a move to protect human rights and avoid wrongful verdicts.
Little awareness of human rights protection, and illegal maneuvering to tackle cases, have been the main reasons for wrongful verdicts over the past few years, Sun Qian, deputy chief procurator of China's top procuratorate, said while discussing judicial reform on Monday.
The wrongful verdicts exposed in recent years hurt justice and seriously damaged the human rights of litigants, as well as harmed their families, "which is why we are making efforts to fight wrongful judgments and help those who were wrongly punished," said Sun.
From September last year to August, Chinese prosecutors concentrated on cleaning up 1,800 cases that had become backlogged for years because of a lack of evidence, he said.
"The evidence in the cleared cases is far from enough, or there is some doubt, which means the litigants cannot be proved guilty based on the current evidence," he said. "For these cases, we would rather not blame instead of making a wrongful judgment."
He highlighted the importance of protecting human rights for people who are detained and asked every prosecutor across the country to strictly review evidence provided by police.
Jiang Bixin, vice-president of China's top court, said that Chinese courts have announced the innocence of 1,603 defendants because of a shortage of evidence over the past two years, which has improved public confidence in the justice system.
Also on Monday, the Supreme People's Court issued a guideline stipulating that judges who are corrupt, accept bribes, forge evidence or hide key information while handling cases will be held responsible.
"Judges' illegal moves in trials will easily cause wrongful verdicts, so clarifying their responsibilities is necessary," said He Xiaorong, director of the judicial reform department at the top court.
Judges who intentionally take bribes and destroy important legal material will be heavily punished, and those who are negligent or miss evidence, will be called to account, according to He.
"The guideline will help judges be self-disciplined and prevent them wrongly giving verdicts," he said.
In addition, Chinese judicial workers are required to further fight corruption, dealing with related cases in a timely manner, said Sun.
From 2013 to August this year, Chinese prosecutors investigated 110,000 graft cases that involved more than 140,000 people, according to the Supreme People's Procuratorate.
Over the same period, 62 minister-level officials were exposed as corrupt and their cases were turned over to the justice system, Sun said, adding that the process will be transparent.