In today's trending, restaurant offers "lucky" stock market dishes, a Bagua made of mushrooms appears in school yard, a "Fast and Furious" attempted escape, and a dispute over fish-flavored pork.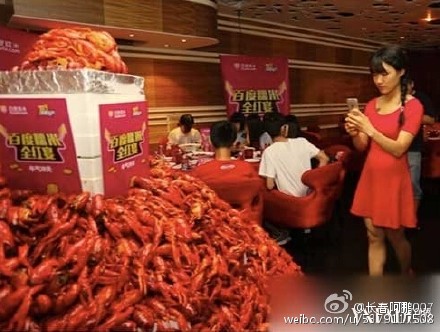 A customer takes photos of the Hot and Spicy Crayfish. [Photo/Sina Weibo] 
'Stock market' themed dishes appear in Beijing
As the stock market has become a popular topic among Chinese, a restaurant in Beijing has invented a series of "red-colored dishes" which are supposed to bring customers a rebound in stock prices, as red is for rising prices and green for a fall in prices in China, Chinanews.cn reported on Monday.
The dishes were well-received by customers. Here is the menu:
Hot and Spicy Crayfish: One needs to shell the crayfish in order to get to the delicious meat, symbolizing that one should hold on and not give up easily on the stock market.
Duck Blood and Vermicelli Soup: The integration of the duck blood and vermicelli means all men are brothers and this is a joyous occasion.
Red Burned Lion Head: As the lion head and the stock market bulls have similar pronunciations in Chinese, lion head is supposed to bring good luck to investors.
Best Braised pork in brown sauce: Braised pork symbolizes a wealthy life.
Coix Seed and Red Bean Porridge: This food which can keep people in good health symbolizes that a simple life is a true life, which reminds investors to remain serene and calm on the stock market.
In our next story, mushrooms shaped into a Bagua make an appearance on a college campus.