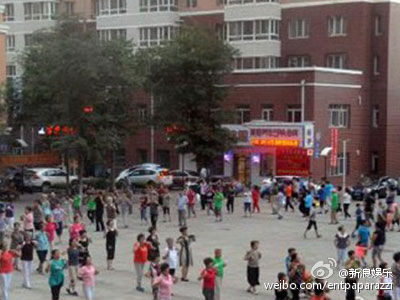 Photo from Sina Weibo shows square dancing near an apartment in Harbin, Heilongjiang province.
Square dancing lowers house prices
A fall in property prices can be attributed to many things. The latest reason for the falling value of an apartment in Harbin, Heilongjiang province is the noisy square dancing that takes place nearby.
A woman surnamed Wang wanted to sell her 110 square meters apartment in Zhongbeichuncheng, Harbin since she has long been bothered by the square dancing in her housing estate. To her surprise, even if the price was lowered from 1.32 million yuan ($212,700) to 1.20 million yuan ($193,300), no one was willing to buy it, because they were bothered by the dancing as well.
Square dancing is a very popular daily activity among middle-aged and retired woman in China. They usually dance to lively songs from 7 pm to 9 pm, and sometimes in the morning as well.
As many nearby realtors have pointed out, apartments in the buildings near the square are harder to sell and the tenants change frequently as the dance music is so loud it can be heard even with the double-glazing windows closed.
"We have negotiated with the square dancing participants and they promised to shorten the dancing time. Residents can also call us if they are extremely affected," said the people from the property management company.
That's all for today's trending, do check back tomorrow for more news from around China!