In today's trending, a shop offers immortality in the form of 'Xuanzang's' 'flesh', an artist's cave studio, a 3D printed villa in Xi'an, and square dancing lowers property values.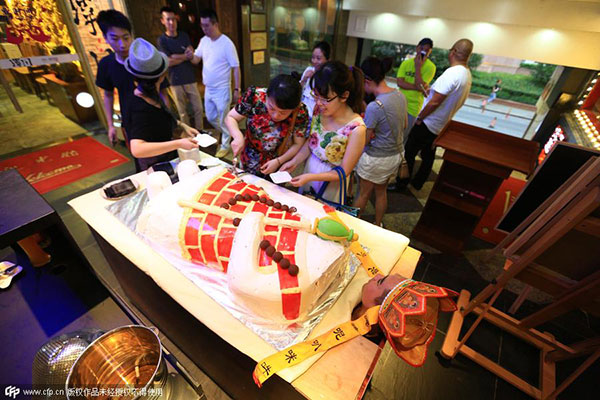 Visitors eat the flesh of Xuanzang, which was actually a giant cake. [Photo/CFP]
Shop offers 'flesh' of 'Xuanzang'
A shop in Hangzhou, Zhejiang province is providing customers the 'flesh' of Tang dynasty monk Xuanzang, the main character in the classic Chinese epic novel Journey to the West, as a publicity stunt, cfp reported.
In the novel, Xuanzang was the target of all the demons, goblins and fairies as they all vied for a piece of his flesh that would supposedly make them immortal.
The free meal turned out to be a giant cake, shaped like Xuanzang's cassock and covering a model dressed as Xuanzang.
The stunt attracted a huge crowd.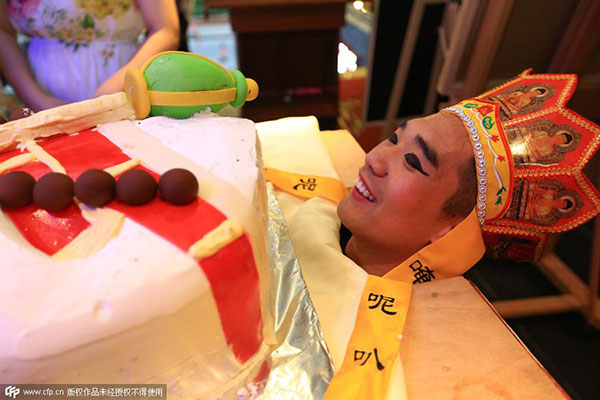 A man dressed like Xuanzhang, lies under a giant cake. [Photo/CFP]
In our next story, meet the farmer artist who paints in a cave.