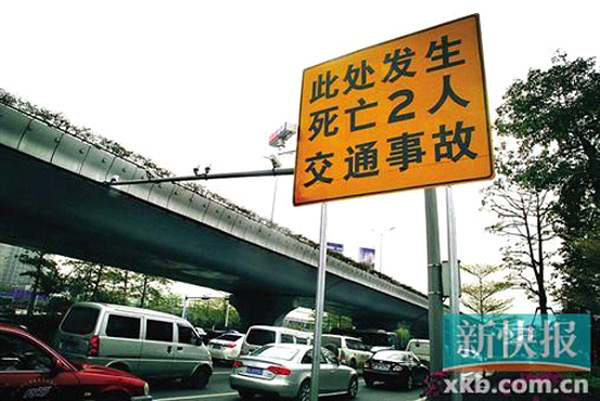 A sign that reads "two people died in a traffic accident right here" stands at a busy crossing in Foshan, South China's Guangdong province. [xkb.com.cn]
 Shocking traffic sign stirs controversy
Traffic signs are supposed to remind drivers of certain rules to ensure road safety. But some of them, if they are not properly handled, might lead to unexpected reactions.
One traffic sign, which reads "two people died in a traffic accident right here", has freaked out many drivers since it was erected at a busy crossing in Chancheng district, China's southern Foshan city, xkb.com.cn reported.
"It was like I am driving through hell… it makes me feel uncomfortable," an anonymous driver commented.
The local police authority, which lately has put into use seven similar signs, said they just wanted to boost road safety by using solid facts.
That's all for today's trending, do check back tomorrow for more!