In today's trending, an abducted man finds his way home via DNA matching, an elderly man tries to redeem his 67-year-old saving account, and a blunt traffic sign makes drivers uncomfortable.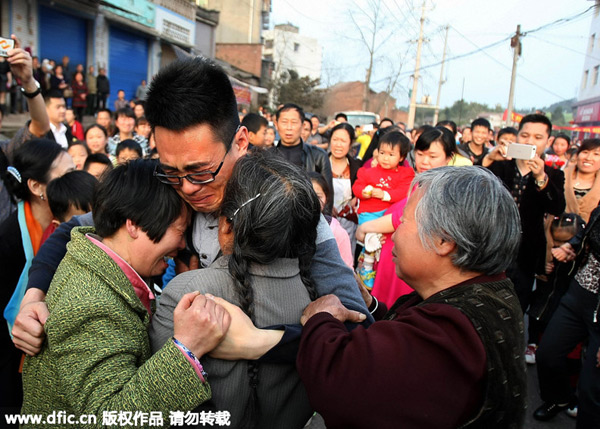 Li Wei, a man abducted 26 years ago, is reunited with his family on Wednesday. [Photo/IC]
DNA matching lead abducted man back home
Amid the deafening sound of firecrackers, Li Wei hugged his birth family, his voice choked with tears. Twenty-six years after he was abducted, Li finally returned to his home on Wednesday.
In 1989, four-year-old Li Wei was abducted while playing at his hometown in Baihe town of Neijiang city, Southwest China's Sichuan province. Since then, his mother embarked on the difficult road of finding him.
Luckily, they both had samples of their DNA uploaded to a database established by China's Public Security Ministry, which collected DNA of abducted children and parents whose children were stolen.
The platform can pair DNA samples of different people and find those that are similar. Li's DNA sample was matched with that of his mother.
Since the database was established in 2009, 3,508 abducted children across the country have been reunited with their families.
Next up: a man seeks a "wife" for his little "Coconut", a young bulldog.