In today's trending, man straps 146 iPhones to his body, tourists walk on a cliff face, creditor dragged outside car for 500m, and residents scramble for counterfeit goods.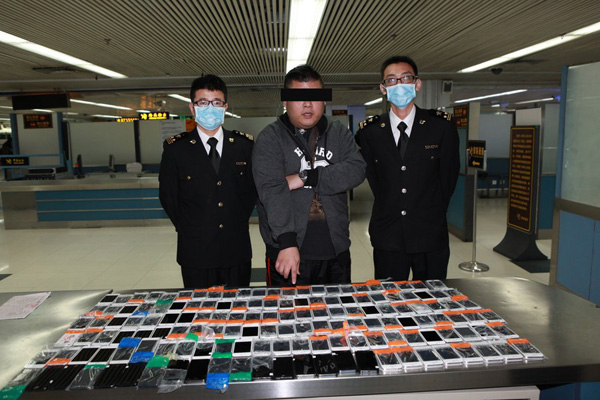 The smuggled iPhones are displayed at Luohu customs in Shenzhen. [Photo/CFP]
iPhone 'armor'
You may think a man wearing a belt made of iPhones is trying to show off, but in this case he was trying to smuggle them over the border.
A man from Hong Kong was caught smuggling 146 iPhones by Customs at Luohu checkpoint in Shenzhen, South China's Guangdong province on March 6.
He had strapped 126 iPhones to his waist and 20 more to his shanks in an attempt to smuggle them from Hong Kong to Shenzhen, Guangzhou-based Yangcheng Evening News reported Wednesday.
After investigation, it turned out the man had been caught 4 times before for smuggling electronic products since 2011. He smuggled a total of 511 iPhones and 127 CPUs strapped to his body in five times that he has been caught.
In an earlier report, another man was caught smuggling 94 iPhones strapped to his body by Customs in Shenzhen, South China's Guangdong province on Jan 11.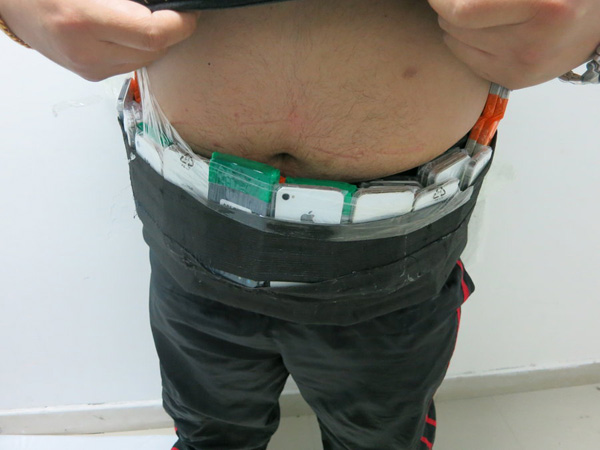 The man tries to smuggle 146 iPhones strapped to his body from Hong Kong into the mainland in Shenzhen, South China's Guangdong province. [Photo/CFP]