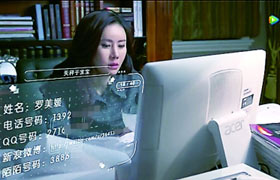 Woman fired for having same online identity with TV mistress
A woman was fired by her employer for having the same QQ and Sina Weibo accounts with a fictional mistress in a TV series, as the boss believed it damaged the company's image, Chongqing Evening News reported Friday.
The woman received more than 6,000 comments in one day on her QQ Zone, most of them mistaking her as a real mistress and said she was "immoral". The film crew of the soap opera Divorce Lawyer said they randomly found her personal information online and used it without informing her, and now can offer 2,000 yuan in compensation. The woman, surnamed Tan from Chongqing, said she is considering ending the trouble through legal means.
Related: Paper publishes 'letter from mistress' to wife

Resourceful and brave boy helps himself
A 5-year-old boy who had got lost while with his father at the Xiamen train station hired a taxi to take him to a police station to ask for help, New Express Daily reported Friday. The boy told authorities his name, neighborhood address and the travel route with his father to the train station, which helped police find his home.
Related: Youngest English talent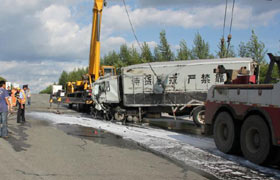 Carrier with 1 billion cash overturned
An armored cash carrier transporting about one billion yuan ($162.8 million) overturned on Harbin-Tongjiang Highway in East China's Heilongjiang province on Thursday. No money was lost and nobody got hurt but the accident caused heavy traffic congestion and an oil spill from the car's oil tank. Policemen in Yilan county quickly responded and cordoned off the area. The reason the vehicle overturned is under investigation.
Related: Watermelon truck overturns on highway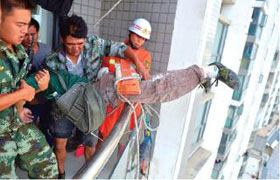 Gimmick boy could have killed building maintenance worker
A Guiyang boy who found outdoor noises disturbed him while watching TV cartoon shows cut the lower safety rope of a worker installing lights to the building's exterior surface. The worker was rescued by police after dangling on the eighth floor for 40 minutes, Hunan-based Sanxiang Metropolis Daily reported on Friday. The boy, 10, was staying at home on the eighth floor alone. The boy's father made sincere apologies and paid for a new safety rope.
Related: Boy, 14, kills 18-month-old sister with knife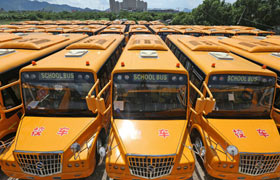 New school buses used as toilets
Fifty-two new school buses that were parked in a village in Wenling, Zhejiang province, for nearly a year were used by some villagers as toilets, Xinhua News Agency reported on Wednesday. The buses were purchased by a chamber of commerce in July 2013 as part of a plan to set up a company to serve rural students. But the group couldn't get approval from the Wenling education bureau. The bureau said it told the group before the purchase that the city had enough school buses.
Related: Weird 'school buses' across China