Six-year-old rides his luck under SUV; singer hits low note damaging a lung and urge for selfie could have been fatal.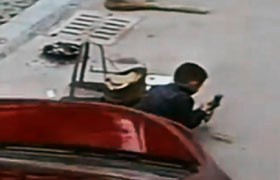 Child thanks his lucky stars
A 6-year-old boy in Shandong province rode his luck when a vehicle ran over him but escaped with only several bruises to his face and lower legs, iqilu.com reported.
The boy was playing on a road when a red SUV drove over him. Surveillance footage showed the child fitted perfectly beneath the vehicle's underside and its axles.
Related: Drunk official kills man in hit-and-run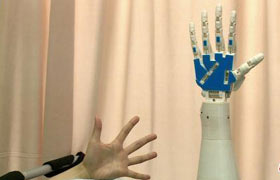 Zhejiang scientists help disabled
A patient suffering from epilepsy, with a sensor implanted in their brain, is able to control a mechanical hand, making a fist, spreading the hand and putting up a certain number of fingers, via brain signals at a laboratory at the Second Affiliated Hospital of Zhejiang University School of Medicine in Hangzhou city, chinanews.com reported.
Two years ago at the same university scientists implanted a sensor in a monkey allowing it to control a mechanical arm to reach and grab food and drinks.

The technology, Brain-Machine Interface, is a real blessing for people with paralyzing conditions.
Related: Blind boy learns to 'see' with his tongue

High-pitched singing hurt man's lung
A man, 26, in Wuhan who kept singing for hours to beat others on a karaoke app suffered a pulmonary hemorrhage, Chutian Metropolis Daily reported.
Jin Hansheng, the doctor from Hankou Hospital who treated him said incessant singing can cause too much pressure on lungs and may lead to pulmonary hemorrhage and blood vessel ruptures.
Related: Singing Chinese With An American Twang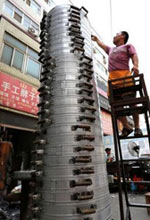 Towering achievement for bakery
A steamed bread shop in Zhengzhou city, capital of Henan province, piled 30 baskets cooking the food, reaching four meters in height, outside the shop to attract business, chinanews.com reported.
Related: Jennifer Yeh's artisan bakery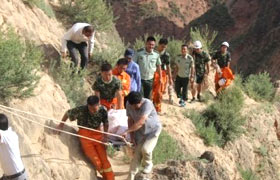 Traveler falls 70 meters and survives
A traveler who slipped while taking a selfie at a mountain edge and fell into a 70-meter deep valley, has been rescued, in Jinbian county, Yulin city of Northwest China's Shaanxi province, Shaanxi-based Huashang Daily reported.
The traveler, in his 50s, is receiving treatment at a Jinbian hospital and is in a stable condition.
Related: Man saved after three days stuck on mountain