Woman hits boyfriend for giving her fake handbag, python crawls into house, online post lands thieves in prison.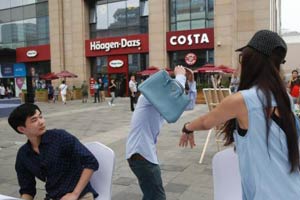 Woman hits boyfriend with fake handbag
Woman hit her foreign boyfriend with her handbag after it turned out to be a fake at the Secoo 2014 luxury appraisal event in Beijing, on Saturday, Chinanews.com reported. The handbag was supposed to be authentic since it was bought "overseas" by the man. After learning it was a fake, the woman got angry and threw it at her boyfriend.
Related: Reasons for not being friends with ex boyfriend or girlfriend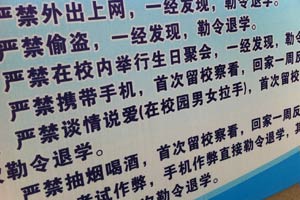 School bans boys and girls from holding hands
Senior high school in Yanshi city, Henan province, has banned eight activities from the start of the new term, including prohibiting boys and girls from holding hands inside the school, according to media reports.
If students breach this rule, they will be warned. If they repeat the offence, they will be expelled. They will also be expelled if they held birthday parties at the school premises.
Related: Chinese parents' tricks on puppy love

Posting stolen money online lands two in prison
Two migrant workers in Wenzhou, Zhejiang province, have been arrested for stealing after one of them posted a picture of himself with the looted money on Qzone, a social networking website, Qianjiang Evening News reported Friday.
They have admitted that they stole a wallet from a car containing 12,000 yuan. Both have been sentenced to eight months and seven months respectively and fined 10,000 yuan ($1,626) each.
Related: Would-be thief arrested for setting fatal fire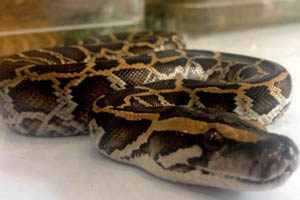 3-meter-long python crawls into house
A three-meter-long Burmese python crawled into a house in Chongqing on Friday night, Chongqing Morning News reported.
Firefighters caught the python and sent it to the city's zoo as it is a first-class nationally protected animal.
According to unsubstantiated reports, someone in the building was raising pythons and the animal escaped in search of food. The alleged keeper has not yet been found.
Related: Boy stays with pet python in S China

Locked-out boy goes missing
An 11-year-old boy went missing on Thursday night after his mother locked him outside the house for coming home late, Chengdu Economic Daily reported.
It is not the first time that the boy had been locked outside, but on previous occasions he would knock on the door and apologize to his mother.
Video surveillance shows that the boy went away with another boy who has been missing for several days.
Related: Boy, 14, kills 18-month-old sister with knife

Man quits job to make robots
A 28-year-old man in Chongqing who was earning about 10,000 yuan ($1,626) per month has quit his job to develop robots and other electronic products, Chongqing Evening News reported on Sunday.
He has designed a mini robot, which resembles the R2-D2 shown in Star Wars movies, and it is selling like hot cakes on his taobao store. He has also created electronic props of real people in takagism, an online video game. His taobao store now earns him more than 10,000 yuan per month.