No celebrity favors for detained drug users; grandparents hurt in childhood dispute and no sex please, you're bus passengers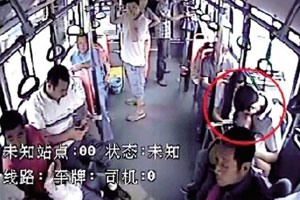 Bus seat not the place for intimacy
A couple made out on a bus regardless of other passengers' discomfort and stares, according to the Zhengzhou Evening News.
The man was sitting on a seat while the girl was lying on his lap and the couple kept kissing for about seven minutes. Passengers and the bus driver were disturbed by such inappropriate behavior, but their hands were tied as there is no regulation related to such action.
The driver later posted a sign reading: "No inappropriate intimacy on bus please" on the vehicle.
Related:
Take bus with the help of your mobile phone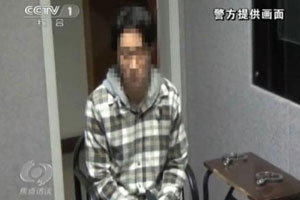 No star treatment for Jaycee Chan
If you assume there are always privileges for celebrities you would be wrong. Jaycee Chan, Jackie Chan's son, is detained in Dongcheng District in Beijing, together with Kai Ko, a Taiwan movie star, for using drugs and keeping cannabis plants.
According to huanqiu.com, detainees must wear uniforms and eat simple meals. More than 10 people live in one cell with a TV running news programs only. Plus, two hours is allowed for chatting, watching TV or playing poker.
Related:
'I failed to be a good father', Jackie Chan apologizes for son

Husband gets life for argumentative wife's murder
A husband was sentenced to life imprisonment for intentionally strangling his wife as he could not stand his mother and wife always fighting, Sanxiang City Express reported.
According to the man, he lost his temper because his wife constantly complained and belittled his mother.
Related:
Gambler tries to kill wife to hide his debts

Guardians too involved with kids' fight
Conflict between two 3-year-old girls resulted in a dispute between their guardians - a grandparent couple and a grandfather. The grandmother broke two ribs and one of the grandfathers received two stitches to his head in Chongqing municipality, according to the Chongqing Evening News.
After police attempted to mediate, the seniors all regretted their behavior. Experts said children's fights can generally be solved by themselves without the involvement of adults.
Related:
Never pick a fight with an ugly person, they've got nothing to lose

Mother sues children to get her money back
A woman from Rudong county, Jiangsu province, took her two children to court to get back her savings, Modern Express reported.
She had decided to give all her savings, about 67,000 yuan ($10,890), to her children after a hospital notified her that she had a critical condition. She said the money was for treating her disease, but if she died and the savings were not used up, they would be left to the children. However, she soon recovered and her children refused to return the remaining 44,000 yuan until ordered to through mediation.
Related:
Datong mother "adopts" 75 soldiers