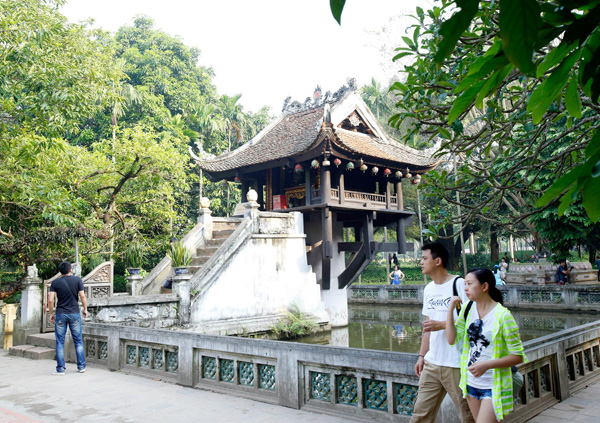 Tourists visit a temple in Hanoi, capital of Vietnam on Oct 4, 2013.[Photo / Xinhua]
Thirteen overland routes between
Yunnan
province and neighboring Southeast Asian countries were reopened on Monday after eight years of suspension, providing a boost for tourism and other businesses in the region.
On hearing the news, local tourism agencies were overjoyed at the prospect of increased numbers of tourists traveling in both directions, while jade traders could not wait to expand their cross-border business.
Under new rules, both residents and non-residents of Yunnan can apply for travel permits to visit towns in Vietnam, Laos and Myanmar.
Applications must be made with exit and entry authorities in five border prefectures and cities: Wenshan Zhuang and Miao autonomous prefecture, Honghe Hani and Yi autonomous prefecture, Xishuangbanna Dai autonomous prefecture, Dehong Dai and Jingpo autonomous prefecture and Baoshan city.
Travel agencies will be permitted to organize sightseeing visits to government-designated areas for specified periods.
"In the past, cross-border travel was a highlight of Yunnan's tourism industry. However, it was suspended due to the booming casinos in neighboring countries," said Duan Qingyuan, president of the Kunming Travel Agency Association.
Initiated in the early 1990s, cross-border travel was harmed by concerns over gambling in the border areas. The government cracked down on cross-border gambling activities in 2004 and officially closed the business on Nov 2, 2005.
The suspension had a catastrophic impact on the local tourism industry in prefectures such as Dehong, which had previously seen considerable tourism-related business.
In the 1990s, around 290,000 visitors to the prefecture were passing through on one-day trips to Myanmar.
As early as 1992, Ruili in Dehong received 3.09 million tourists, bringing in about 200 million yuan ($32 million) in revenue.
Wang Mingliang, deputy director of Dehong Tourism Bureau, said 75 percent of the visitors to the prefecture have plans to travel in Myanmar.
Hekou county, a national entry point in Honghe, also suffered economic losses during the suspension. At least 60 star-rated hotels have been struggling with empty rooms following the suspension, according to local authorities.
In January 2011, Honghe and Wenshan were chosen to pilot the reopening of cross-border travel and the issuing of permits for non-residents.
The Department of Public Security in Yunnan said it has found no gambling activities that will cause harm to visitors.
Police in Yunnan have established a cooperation system with neighboring countries to stop gambling-related activities. After several years of hard work, at least 300 tourists now visit Hekou every day and Wenshan also enjoys a growing number of cross-border travelers.
Between Oct 28 and Nov 1, the Ministry of Public Security and the China National Tourism Administration conducted checks on the reopening of cross-border travel in Yunnan, and approval was finally given on Nov 27.
Cai Lingyan, deputy general manager of Yangyanghao International Jewelry Company in Ruili, said the resumption of cross-border tourism will boost the local jade industry.
Cai's company has made a series of plans to receive new visitors. "Our company is the only one in a 3A travel destination in the country that manufactures raw jade stone, and we hope more people will come to the town and our company to experience jade stone trading and its techniques," Cai said.