Yunnan twist at top Beijing restaurant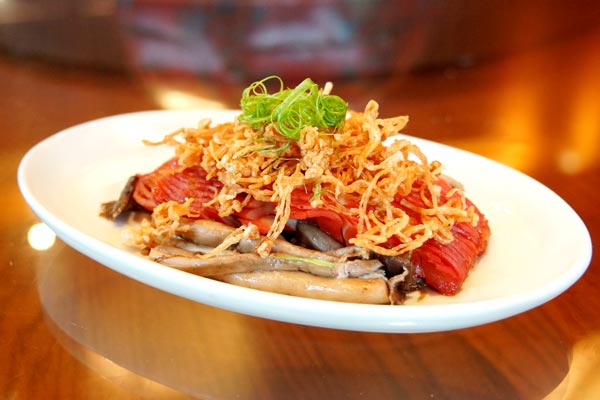 Yunnan's popular mushrooms dominate the menu [Photo by Ye Jun/China Daily]
Made in China, one of Beijing's most popular Chinese restaurants, is using the start of the chilly winter as a chance to offer something different from its regular repertoire of Yunnan cuisine.
Executive chef Jin Qiang has taken inspiration from his previous trips to the southwestern Chinese region and blended them with his own ideas.
The result of that combination fits the season perfectly - a warming, healthy and appetite-opening Yunnan menu full of sparks of creativity.
The dishes are full of Yunnan elements: a large array of fungus; herbs, such as mint; fruits, such as tamarillo; or the tree tomato. Many of the dishes are sour and spicy, typical of the region.
But Jin says the foods are not entirely Yunnan. He has taken the best of the Southwest China and applied them to what he is familiar with.
The chef has been training in Cantonese cuisine. But he is also adept in many schools of Chinese fare. Moreover, he is a Beijinger, and all these influences are evident in the menu.
Shandong cuisine's braised beef appetizer is given a fresh flavor by adding fresh mint, a Yunnan specialty, and spicy Sichuan chili oil. Yunnan's boletus mushroom is combined with Beijing's preserved turnip pickles. The result is a refreshing sourness.