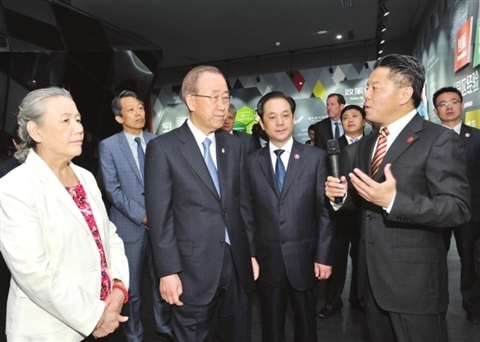 UN Secretary-General Ban Ki-moon and his wife, Yoo Soon-taek, learn about Suzhou Industrial Park's rapid development. [Photo by Xu Zhiqiang/subaonet.com]
Suzhou will play a more important role in global sustainable development, according to UN Secretary-General Ban Ki-moon, who visited the Jiangsu city with his wife on July 10.
Zhang Lei, vice governor of Jiangsu, welcomed Ban Ki-moon in Suzhou and introduced cities in the region with more than 2,000-year histories. Zhang also talked about Jiangsu's developed economy, technology and education system.
Ban Ki-moon said that Suzhou is an industrial powerhouse of Jiangsu and is home to beautiful natural landscapes and innovative industries.
"Suzhou has set a good example in developing low-carbon economy and environmental protection, which conforms to our target of realizing sustainable development," he said. Ban also spoke highly of Suzhou's creative achievements in selecting high value-added and low-energy consumption enterprises to the city after learning about the Suzhou Industrial Park's strategy of attracting investment.