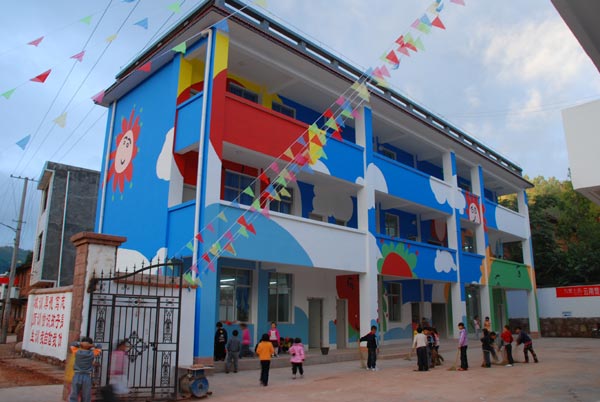 The painted walls of Liuqing Nippon Paint Hope primary school. [Photo provided to chinadaily.com.cn]
When 30 people from the Nipsea Group, Nippon Paint China, and Nippon Paint Malaysia decided to pay a visit to two Hope primary schools, in Yunnan province, Sept 18-19, they included Wee Siew Kim, CEO of the Nipsea Group, who donated 30,000 yuan ($4,900) to Hope primary school on behalf of Nippon Paint China, and got the group of visitors to add a touch of brightness to the school wall by using brushes.
The two schools are the Liuqing Nippon Paint China Hope primary school in the village of Tuo'an, near the city of Chuxiong, and Guishanwan primary school in the town of Jin'niu in the Dali Bai Autonomous Prefecture, where volunteers from various countries have brought lively physical education classes and fine arts programs.
The charity project includes painting the walls of Hope Primary Schools and special funding for Nippon Paint China Hope Primary Schools and Nippon Paint China Happy Fine Arts Classrooms, which get support from Nippon Paint China and the China Youth Development Foundation.
In commenting on the program Li Jianlong, the principal of Liuqing Hope primary school, said, "They bring us a lot of picture books and sports equipments, which are essential for an art and physical education curriculum and they help us improve teaching conditions."
For his part, Wee explained, "My first visit to a hope primary school in Yunnan was in 2010, and took me about 10 hours from Singapore. But when I arrived and saw the smiling faces of the children, I didn't feel a bit tired after the long journey. My feeling this time is slightly different from the last trip and I've noticed some familiar faces that stayed in my mind, and this makes me feel like visiting old friends."
Wee went on to say that, "The needs of the children are the driving force for Nippon Paint China in continuing 'Color, Way of Love' program. And Nippon Paint China hopes that the long-term activities create a harmonious study environment for the pupils and are a symbol of a brighter future."
Wee added that the Nipsea Group plan to take these activities to more Asian areas and, for the Yunnan tour, it invited regional managers of Nippon Paint Malaysia and Singapore companies especially to share the experience. The day of the visit, Giraffe English teachers were giving some pupils their very first taste of an English lesson.
In response, Gladys Goh, GM of Nippon Malaysia, said, "The tour of 'Color, Way of Love' activities really inspires me a lot and I'll try to bring charitable activities to Malaysia in the very near future."
In conclusion, Wee said, "Nippon Paint is not only a coatings supplier, but a provider of love for the world. And I look forward to the 'Color, Way of Love' program becoming a sustainable way to provide public welfare, and to get more company partners involved, not just our employees and dealers. Nippon Paint China has more than 20 charity partners that have benefited tens of thousands of rural students and these include Boeing, Dupont, Dow, Coca-Cola and Canon ".
The Yunnan tour was one part of the 'Color, Way of Love' initiative, first organized by Nippon Paint China in 2009. It was designed specifically for helping school children in rural areas through better school facilities, a better teaching environment and higher education levels.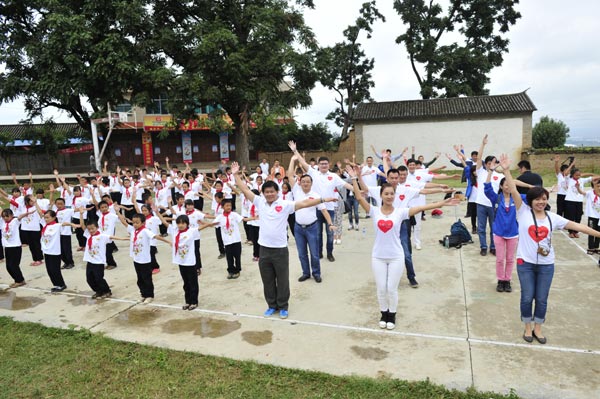 Colleagues from Nippon Paint across Asia, together with the students do morning exercises. [Photo provided to chinadaily.com.cn]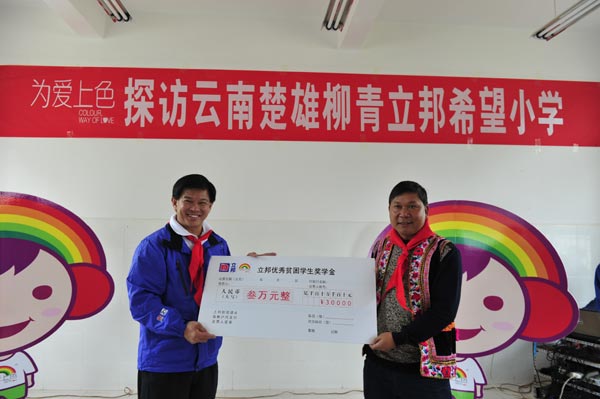 Wee Siew Kim, CEO of the Nipsea Group, which offered 30,000 yuan ($4,900) in scholarships to able students from impoverished families or disadvantaged regions on behalf of Nippon Paint. [Photo provided to chinadaily.com.cn]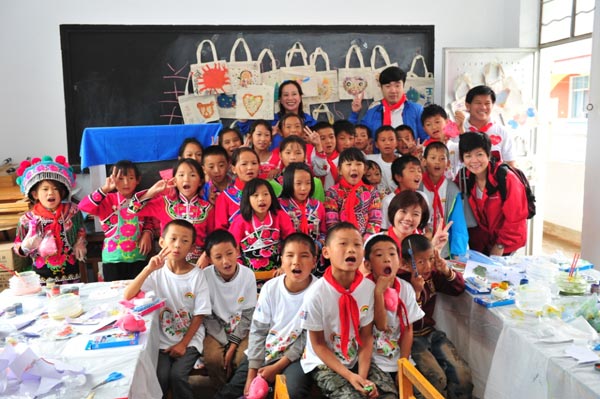 The 'Color, Way of Love' project runs fine art lessons in the Happy art classroom. [Photo provided to chinadaily.com.cn]