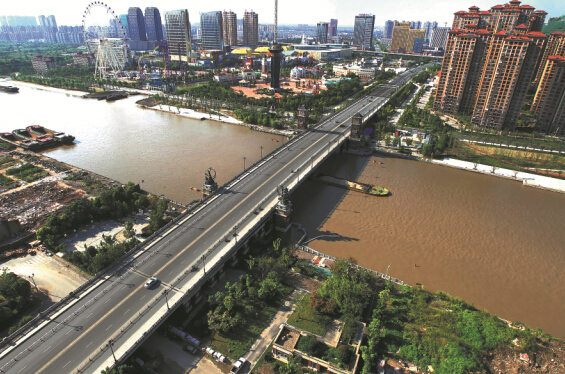 The northern region of Nantong, Jiangsu province, where the business area of Beidajie is situated, is home to a growing number of companies. XU CONGJUN / FOR CHINA DAILY
Online trade is gaining momentum in Nantong, Jiangsu province, as China works to integrate the Internet with industry to pursue economic growth.
Local officials say the growing popularity of online platforms is helping upgrade the city's traditional foreign trade companies and many of them now are conducting cross-border sales via the Internet.
Enthusiasm for the new trend is growing. A training session by e-commerce giant Alibaba in the city attracted hundreds of foreign trade companies.
As traditional foreign trade suffers, online cross-border trade is growing into a new powerhouse, and many traditional companies are eager to learn about it, said Hou Ye, a manager at Alibaba's East China branch.
Hou urged businesses to pinpoint their key markets and target customers to meet their demand.
Discussions following the lecture were peppered with concepts such as big data, resource sharing, business-to-business marketing and the inclusion of the renminbi in the International Monetary Fund's special drawing rights basket.
The Nantong International E-commerce Chamber built a business school with Alibaba that focuses on online cross-border trade in north Nantong's science and technology park late last year. It is the first of its kind Alibaba has helped build in the region.
Sun Jianglin, head of the chamber, said the establishment of the school will mark the beginning of the city's regular training of human resources dedicated to online trade.
The school would also provide technical guidance for local companies on conducting business-to-business trade and hopes to supply them with a competent workforce.
Sun said the school plans to graduate 500 students this year for local online trade companies, 100 of whom have already started their jobs.
One graduate is the daughter of the owner of a prefabricated house company called Huaxia in Nantong, with its products mainly sold in Jiangsu and neighboring provinces, said Sun.
Thanks to her daughter's expertise, the company owner currently sells products in not only China but also to North America.
Local officials say Huaxia is an example of local companies that have expanded their business online, adding that many small and medium-sized companies are joining those ranks.
Nantong's foreign trade totaled $31.4 billion in 2015, ranking fourth among the more than 30 cities in the province.
The city's burgeoning trade and sound business atmosphere has boosted the development of the modern service and logistics industries in Nantong, especially in the Beidajie zone.
Nantong officials said online trade is helping upgrade traditional businesses and stimulate innovation.
Beidajie has become home to a number of big names including China Resources, Vanke, Hilton and InterContinental as well as nascent companies.
Online logistics startup Xiaonuomi enables local residents to buy food and vegetables online and an innovation center called Orange Community is helping startups gain a foothold in the city.
It provides them with offices and meeting rooms as well as advice on how to conduct road shows.
Jin Chunlei, an official in the northern Nantong town where Beidajie is located, said, "Traditional industries should integrate with the Internet to enrich and improve themselves.
"The business pattern in Beidajie has been established and a new business zone is taking shape. As those business projects and online trade continue to grow, we will develop a brand new business pattern in the city that features online trade."
Contact the writers through lifusheng@chinadaily.com.cn