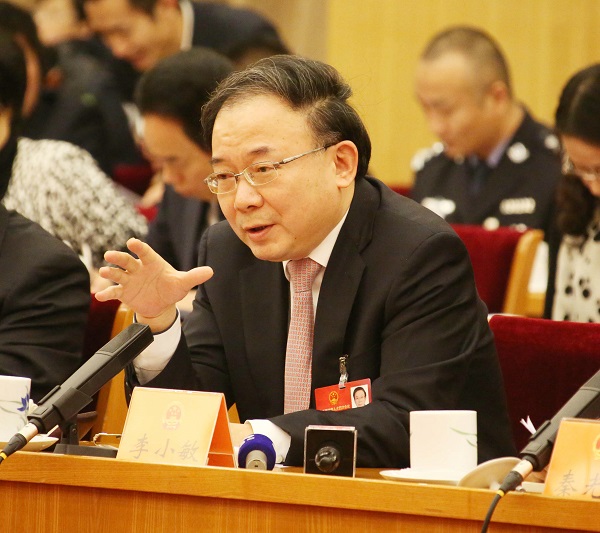 Speaking at the fourth session of the 12th National People's Congress in Beijing on March 7, Wuxi Party secretary, Li Xiaomin, expresses the importance of protecting the city's water ecology.
The fifth plenary session of the 18th CPC Central Committee has emphasized the concept of green development as one of the key factors in the country's economic and social development. The 13th Five-Year Plan (2016-2020) as well as the report on the work of the government by Premier Li Keqiang have made overall arrangements and put forward explicit requirements to guide the direction towards ecological construction, regarding which the issue of water environment serves most critical for the city of Wuxi in Jiangsu province.
We need to scale up efforts in water environment management and water quality improvement to implement the concept of green development. Wuxi has placed the highest priority on the Taihu Lake basin management in the process of ecological construction since the water supply crisis in 2007. With support from the country and the province, the city firmly implemented the general and specialized plans to integrate emergency water pollution prevention with long-term scientific water management, which has contributed to some remarkable achievements.
The water quality of Taihu Lake for Wuxi's part has improved a lot compared with other parts, improving from moderate eutrophication into mild eutrophication. The six centralized drinking water sources in the city have reached standard water quality stability for eight consecutive years, reaching the previous target set.
We should still be aware of the various difficulties lying ahead for the improvement and management of Taihu Lake. On March 1, Wuxi city held a meeting to set the goals and key measures of the basin management of Taihu Lake, calling for public efforts in solving the problems of the water environment. The city will make Taihu Lake management a leading strategic step in building a well-off society in an all-round way, and adopt management effects as a significant indicator to evaluate the achievements of the city's economic and social development. The city will improve lake water quality for both production and living, and emphasize both pollution prevention and water protection. By 2020, the city will exploit a water ecological construction road, featuring Wuxi characteristics, with the water quality of Taihu Lake for Wuxi's part, meeting the country's criteria.