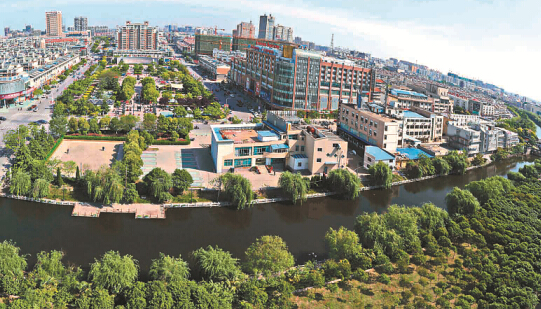 The local government has invested more than 200 million yuan in improving the water quality of the Longyou River. PROVIDED TO CHINA DAILY
The city of Rugao in Nantong, Jiangsu province, is boosting its economic growth by developing high-tech and green industries.
"We are focusing on technological innovations and adjusting industrial structures," said Rugao's Party chief Jiang Yonghua. "I am sure we will see more stable and steady development in the future."
By the end of 2015, Rugao was home to 102 high-tech companies that mainly fall into four categories — high-end equipment manufacturing, electronics and information, new energy and environmental protection.
Jiangsu Lixing General Steel Ball Co is one such company. Specializing in producing steel balls for car bearings, the company has scores of pieces of independent intellectual property and seven products that are listed as key for the country. It went public on the Shenzhen Stock Exchange in 2015 and its sales revenue hit 750 million yuan ($114.5 million) for the year.
The company said it would invest another 80 million yuan in the coming three years to renovate its steel balls and is planning to set up subsidiaries in the United States and Poland this year.
Jiangsu Jiuding New Material Co is planning to invest 200 million yuan to renovate its production line that manufactures high silica fiberglass. Currently the market contains mostly foreign products.
The Rugao government held an investment fair in Shanghai in late February, which saw the inking of 65 deals with Fortune 500 companies, China's top 100 businesses and individuals.
Of those, 18 involved introducing high-level professionals and 47 related to industrial cooperation, said local officials.
Rugao is optimizing its industrial structure to highlight secondary and tertiary industries.
Linkage Software Co moved into the Rugao Software Park in April. The company, which is developing a set of software for Japanese insurers, saw its sales revenue in 2015 hit $2.5 million, double its 2014 figure. It has set a target to generate $15 million annually in sales within five years.
The park, founded in June 2009, is home to more than 100 software developers and IT companies such as Linkage.
Zhu Rongrong, a vice-director of the park's industrial economy center, said companies in the park's service industry saw their combined sales revenue reach 1.32 billion yuan last year.
Companies in the Rugao Port Modern Logistics Park made even greater accomplishments, with their combined sales revenue hitting 15.84 billion yuan in 2015.
Rugao Bonded Logistics Center was opened in early February at the park, becoming the first of its kind in central Jiangsu province.
In addition, the city's Dongsheng Stone Trade Center was listed as one of Jiangsu province's key service industry programs. More than 300 businesses have rented stores in the center.
Local government statistics show that Rugao's service industry generated 48.9 billion yuan in 2015, a 12.27 percent rise year-on-year.
The Rugao government is promoting environmental protection to benefit its residents.
Local authorities have compiled three plans to conserve water in the city.
The government has invested more than 200 million yuan in improving the water quality of the Longyou River, a tributary of the Yangtze River, and to build Longyou Lake.
The lake and its surrounding areas have become the largest open park among counties and county-level cities in central Jiangsu provinces. It attracted 100,000 visitors during the Spring Festival holiday.
Xu Hai, head of the Rugao water authority, said the lake's water quality is at or above the State's class-two level and they were surprised to find fish varieties from the Yangtze River in the lake, including the increasingly rare estuarine tapertail anchovy.
Xu said there were suggestions that boat rentals should be introduced to the lake to promote tourism but the government decided against the idea to preserve the lake's water quality and ecosystem.
Contact the writers through lifusheng@chinadaily.com.cn