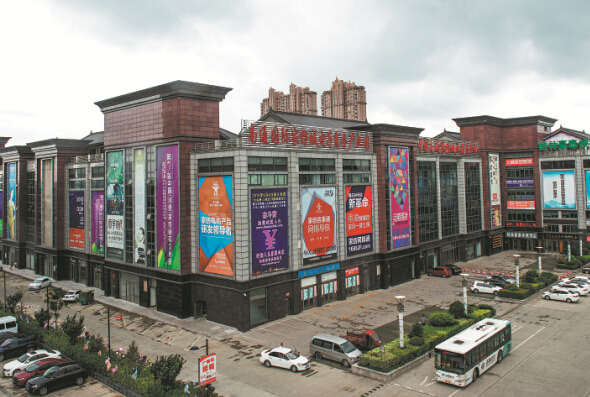 Tongzhou began to develop the
Nantong
Home Textile E-commerce Industrial Park in early 2014, with its first phase covering an area of 13,500 square meters. BEI DUOMIN FOR CHINA DAILY
Tongzhou district in Nantong, Jiangsu province, was recently praised by the State Council, China's cabinet, for its implementation of the country's Internet Plus strategy.
Home to more than 5,000 e-commerce dealers and over 20,000 innovators who started their own businesses, the district boasts an e-commerce-based home textiles industry that generates more than 15 billion yuan ($2.3 billion) in sales annually.
The district has seized the opportunity generated by the Internet Plus strategy, promoted development of the traditional industry in the Internet era and sought new marketing channels, including consumer-to-business customization and WeChat sales, said Song Lewei, Party chief of Tongzhou.
In early 2014, Tongzhou began to develop the Nantong Home Textile E-commerce Industrial Park, the first phase of which covers an area of 13,500 square meters. Enterprises that started operation in the park were granted subsidies, with up to 80 percent of their rent exempted. Seventy-two businesses are now operating in the park, with total online sales of 1.97 billion yuan last year.
The park has invited e-commerce industry experts, including the top 10 online sellers on Taobao, a leading retail portal in China, to give lectures on web page design and sales promotion. In 2015, the park organized more than 10 training sessions.
Policy support
The home textiles industry has been Tongzhou's pillar sector for more than a decade. Nantong Textile City in the district's Chuanjiang town is the largest home textiles market in the country.
In Chuanjiang and neighboring areas, a well-established home textiles industrial chain has been developed. More than 350 enterprises and some 5,000 dealers operate in the region, generating annual sales of more than 60 billion yuan, which accounts for 24 percent of the Tongzhou district's industrial output.
In recent years, the district government has formulated favorable policies and incentives to encourage public entrepreneurship and has established innovative platforms for the transformation of the traditional industry, which significantly promoted the development of medium-sized, small and micro enterprises.
With the emergence of e-commerce, the district echoed the country's Internet Plus development strategy and actively transformed the growth mode of its home textiles industry.
Since 2012, the district has pushed forward the development of its modern service industries, including e-commerce, modern logistics and cultural innovation.
Last year, Tongzhou drafted action plans for the Internet Plus strategy, public innovation and entrepreneurship.
In June 2015, the State Council issued policies on promoting the healthy and rapid development of cross-border e-commerce, elevating the sector's priority to a new level. Tongzhou was later designated a pilot for cross-border e-commerce.
The Nantong Textile City was included in a pilot program for foreign trade, which enables its home textiles products to clear customs locally. Since the first such order was made in November, exports of more than 700 orders worth over $100 million were processed at Nantong customs.
"When we started exploring the path of e-commerce-based marketing, there was no experience that we could borrow from others," said Shao Aijun, director of the textile city's administrative committee. "Faced with the opportunity generated by the Internet Plus strategy and fierce market competition, we have no choice but to transform our industrial advantages into strength in online sales."
Pioneering companies
Some textiles and e-commerce enterprises have also contributed to the booming development of the e-commerce-based home textiles industry in Tongzhou.
In 2015, Xinshijia Textile Products generated more than $50 million in foreign trade revenue, up 57.5 percent year-on-year. The company started tapping into the US market with the help of Internet channels two years ago.
Businesses in Tongzhou have also cooperated with major domestic e-commerce portals, including Taobao.com, Tmall.com, JD.com, Amazon and eBay, significantly increasing their sales.
In 2015, the home textiles industry launched a sales promotion with Alibaba Group, the owner of Taobao and Tmall. The sales generated exceeded 37 million yuan in 10 days.
Tongzhou's experience in developing an e-commerce-based home textiles industry has attracted the attention of experts and industry insiders.
The district is leading the way in the nation's home textiles industrial development by establishing e-commerce platforms and gathering thousands of e-commerce dealers and pioneering enterprises, said Yang Zhaohua, chairman of the China Home Textile Association.
Contact the writers through dingcongrong@chinadaily.com.cn