A cloud computing conference titled "Tianshan Cloud" was held in Karamay, Xinjiang Uygur autonomous region, on Dec 11-12.
Chen Xinfa, Karamay's Party chief, addressed the conference. Chen said that Karamay has developed into Xinjiang's cloud computing center with the construction of the Huawei Cloud Services Data Center, the ChinaPetro (Karamay) Data Center, the China Mobile (Xinjiang) Data Center and the Xinjiang Disaster Management Center. At present, the city of Karamay has been equipped with a storage service capacity of approximately 10,000 PB.
Cloud computing technology has been employed in various fields in Karamay, including government affairs, healthcare and medical services and public security. Meanwhile, Karamay offers technical support to several regional government sectors and neighboring cities, according to Chen.
Officials from Altay, Tacheng and Wujiaqu prefectures also outlined their local development of the cloud computing industry.
Liu Jianxin, vice-chairman of the Xinjiang Committee of the Chinese People's Political Consultative, Zhang Hongyan, Karamay mayor, Wang Tong, vice-president of Huawei's Sales Department, and nearly 100 of Huawei's partners in the cloud computing field attended the conference.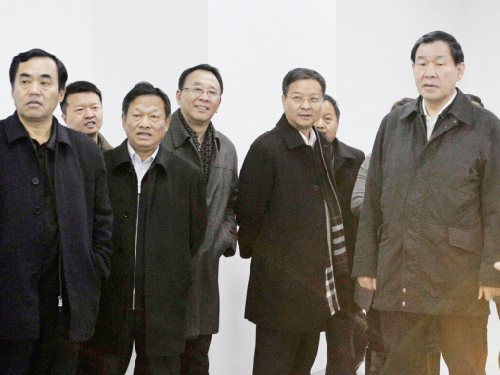 Officials from the Xinjiang Economy, Trade and Information Commission visit the Xinjiang Disaster Management Center in Karamay, Xinjiang Uygur autonomous region, on Dec 12. [Photo/epaper.kelamayi.com.cn]
Edited by Peter Nordlinger