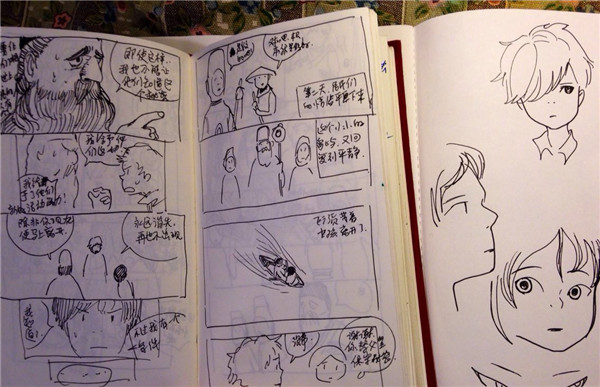 Sketch drawing by Golo. [Photo provided to chinadaily.com.cn]
Roses all the way
Zhao started going to drawing class since a child, and began going to special art class in junior school.
He said it's good to have peers of the same interest to compare with, but he's never the best in the class.
"There was a girl who was very sensitive in colors, and drew way much better than I did. When the teacher asked me to describe what colors I could see on a typical plaster sculpture, I said white and grey, but the girl could tell blue, orange, brown, etc., among the light and shadows."
Interestingly, upon graduation, the girl went to a normal high school while Zhao continued his journey of drawing, getting admitted to Affiliated School of Guangzhou Academy of Fine Arts where he received three years' of professional training.
"Some parents consider drawing is not a right path for a successful future, they think it is not a formal profession, so even when the kids want to go to such schools, they might not allow them to."
Zhao said that he also felt a bit of pressure for wanting to attend specialized school and take drawing as his career, but he knew clearly that being a cartoonist was his life goal.
Three years later, Zhao got admitted to Beijing Film Academy to learn animation.
It was then his parents showed true approval and it was there he received systematic training. "I got a lot of practice on charcoal drawing, sketch, and coloring, all of which laid solid foundation for my drawing. To be a professional cartoonist, it's better to start early and persist. I'm lucky I had followed my heart, and it was pretty much roses all the way."