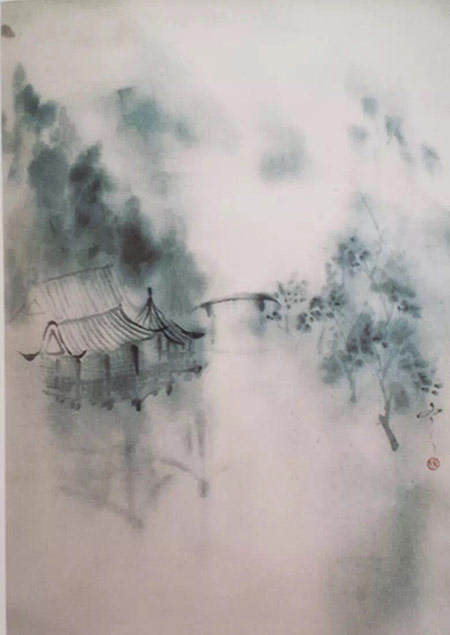 Picturesque Scenery, 1974, by Xu Dongdong. [Photo provided to chinadaily.com.cn]
Imitating the Palace Museum
"Imitating ancient painting is like making friends with ancient masters. I can not only learn their artistic technique, but also become aware of their life attitudes", Xu said.
"I got to know their differences by standing several meters away. Some paintings become my good friends, while some are just passers-by to me."
Even Xu himself can't remember when he began to get addicted to painting.
He only remembers that he often hung around in the painting pavilions in the Palace Museum and always stayed late until the museum closed. Taking a lunch box with him, he went to the Palace Museum almost every day from morning to night.
There, he had the chance to see great masters' paintings, like Ni Yunlin and Shi Tao. He not only watched these paintings, but also began imitating them. That life lasted five years.
In addition, he also went to libraries to look for articles written by the great painters as well as comments and reviews about their works.
Different from other imitators who only copy ancient masters' technique and the outline of paintings, Xu is dedicated to learning the inner beauty of the paintings, which he calls "heart copying", that is to imitate the internal charm of the famed artworks.
"Chinese painting stresses learning from the inner heart. It seems that I have realized this long before", Xu said.