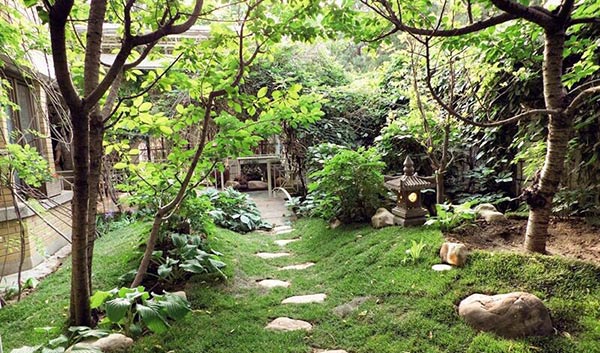 Xu Dongdong's hideaway in Beijing. [Photo provided to chinadaily.com.cn]
A hermit during his peak
In 2003, when Xu was enjoying much fame and honor, a peak time in his life, surprisingly, he didn't actually enjoy it, and chose to live a reclusive life.
He built a private garden on the bank of the Chaobai River in the east of Beijing. Getting rid of earthly things, he relaxed and paid no attention to the outside world.
Though secluded from the outside, Xu still feels a sense of mission driving him to sail, in the art world. He calls the sense "destiny".
People should pursue beyond satisfying their stomach, they should have a higher-level pursuit, derived from the inner heart. "I have read a great number of Chinese philosopher Lu Jiuyuan's works, who teaches me to create artistic conception using heart," he said.
His new book Mind Generating Universe will be published this year, from which we can see Xu's artistic exploration and his enlightenment from the secluded life. The book will be a major piece in China's abstract painting field.
At the end he writes: "Comply with nature, I got insight, as the life journey I am taking now, still has shadows of Confucius and Wang Yangming who are leading me."