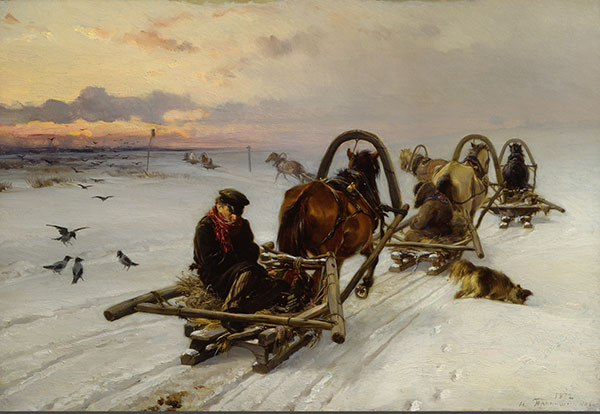 Empties by Illarion Pryanishnikov. [Photo/China Daily]
Tretyakov befriended many artists and helped them launch their careers by collecting their paintings and organizing exhibitions for them. He became acquainted with well-known realist painter Ilya Repin (1844-1930) over two decades, during which time he had acquired more than 50 paintings from Repin.
After Tretyakov died, Repin was commissioned by the Tretyakov gallery to execute a work in homage to the collector.
In the portrait finished in 1901, Tretyakov was presented standing in an exhibition hall of the same gallery. He is seen looking attentively at the paintings on the walls. This painting is now part of the Beijing exhibition.
"All alone, he undertook the entire job of creating the Russian painting school. What a great, incomparable achievement!" Repin once said.
Tretyakov kept the paintings he collected in his house. Because his art assets grew considerably over time, he had to reconstruct his house several times, finally converting it into a gallery.
In 1881, Tretyakov opened his home gallery to the public. In 1892, he donated it to the city government of Moscow. By that time, he owned 1,287 paintings, 518 drawings and nine sculptures by various Russian artists.
Tretyakov once told his daughter, Alexandra, "Since an early age, I knew what (is) acquired from society should return to society in some useful form. ... Living conditions should never allow a person to live idle."
Until his death in 1898, Tretyakov served as the gallery trustee, helping enrich the collection and publish its annual catalogs. His last words were: "Take care of the gallery."
IF YOU GO
9 am-5 pm, closed on Mondays, through July 26. National Museum of China, east of Tian'anmen Square, Beijing. 010-6511-6188/6400.