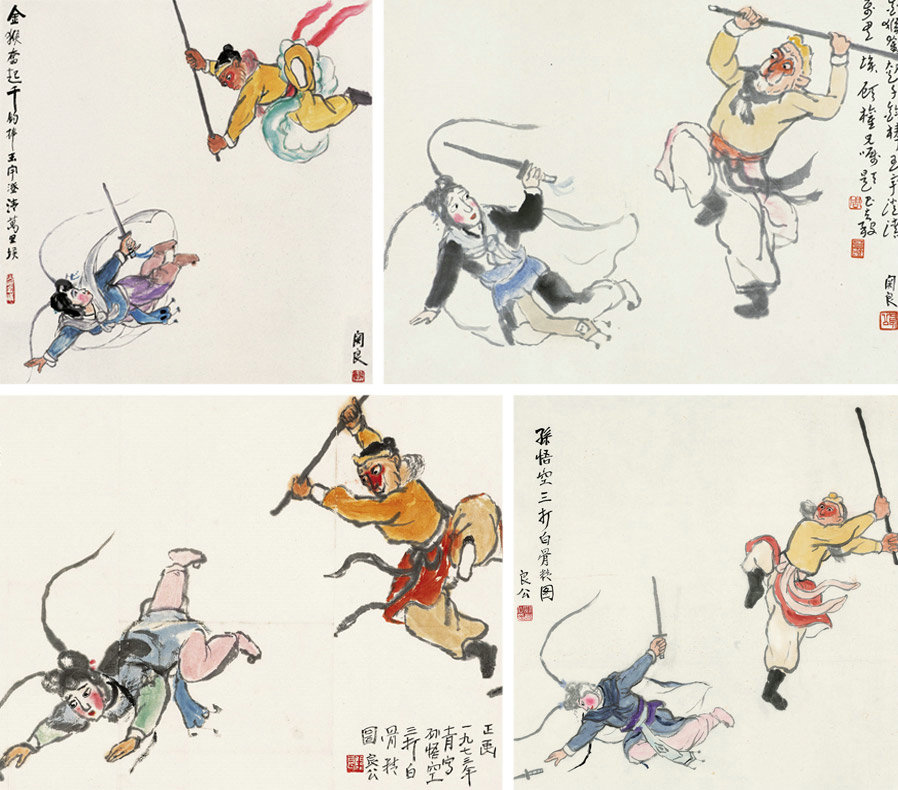 [Photo/ english.cguardian.com]
After returning to China in 1922, he taught at the Shanghai Fine Arts School and the National Academy of Art in Hangzhou. In 1927 he joined the Northern Expedition against the northern warlords, and was in charge of arts and publicity for the Expedition army.
Although Guan began his career as an oil painter, he later focused on traditional Chinese ink wash painting featuring characters from Peking Operas. He is considered the first artist to introduce Western painting techniques to traditional ink wash painting and is known for his unique portrayal of Peking Opera figures. His representative works includeHavoc in HeavenandFarewell to my Concubine, both scenes from traditional Peking Operas.
Characters in Guan's paintings were based on Peking Operas, but are not stictly anatomical or follow the rules of perspective. His painting style is lifelike but unadorned and childish, to catch every nuance of expression in the characters.
2. Three Times Beating Baigujing
Baigujing is from the novelJourney to the West. She is a shape-shifting demon, and in her true form she is depicted as a skeleton. Baigujing desired to eat the flesh of Xuanzang (a Buddhist monk). She disguised herself as a village girl and offered Xuanzang and his disciples poisonous fruits. Due to her strong powers, no one could detect that she was a demon except Sun Wukong (the Monkey King). He hit her with his staff, seemingly killing her. This painting captures the scene where Sun Wukong is hitting Baigujing.