Punchbowl with Western trading offices on the Ghuangzhou waterfront, Qing Dynasty, about 1780–1790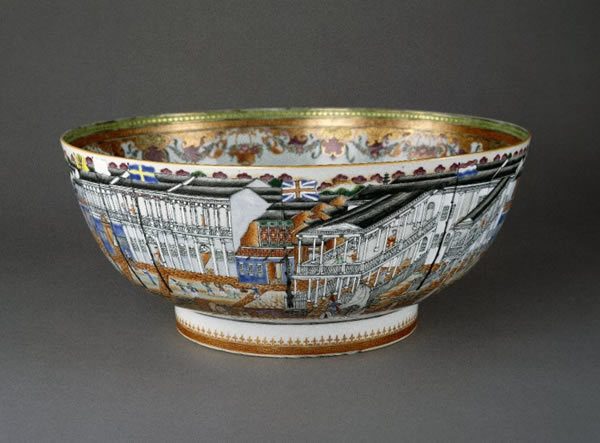 The Punchbowl with Western trading offices on the Ghuangzhou waterfront is housed in the British Museum.
The exterior of this punchbowl is decorated with a continuous scene of the foreign trading stations built along the banks of the Pearl River in Guangzhou. Outside these warehouses are six national flags, flying from tall posts and identify buildings used by the East India Companies of Holland, England, Sweden, France, Austria and Denmark. Chinese commercial boats are moored along the quay, and Chinese and European merchants, the latter distinguished by their tricorne hats and frock coats, stroll along the dock conducting business. Inside the bowl is a basket of flowers contained within a floral medallion.
From 1715 the Chinese government made Guangzhou the only open port for official trade with Europeans. The factories shown here were built on a strip of land between the city walls and the Pearl River front. Although they had narrow frontage, each building stretched back about 300 meters. They were called "hongs" by Europeans, after the Guangzhou pronunciation of the Chinese word for "company" or "business, hang," and these bowls are known as 'hong' bowls in the West.
As they were not officially allowed into the city of Guangzhou, European traders lived and worked at these rented trading stations during the trading season (roughly June to December). Their ships were disarmed for the duration of their stay and anchored off the island of Whampoa. Small Chinese vessels ferried goods and merchants through the shallower waters to the bund. Chinese interpreters communicated with the merchants, initially in Portuguese, later in 'pidgin' English, and – it is thought that - it was not until the late 18th century that any Englishman mastered the Chinese language.
From about 1760 to 1800 the Guangzhou waterfront was repeatedly depicted in oil paintings, watercolors and engravings, so that its changing appearance is well recorded. Architectural details of the warehouses, which were rebuilt in a Western style in 1743 are therefore of interest for dating the views. The appearance or lack of, particular flags, similarly help to pinpoint the dates although some bowls made were decorated with designs from non–contemporary earlier paintings and prints.
The architectural details of the trading stations depicted on this bowl appear in a magnificent eight-meter long scroll in the British Library, painted in China for the Western market between 1760 and 1770 by an anonymous Chinese artist and showing the view from Huangpu district to the city of Guangzhou.