The David Vases, Jingdezhen, dated equivalent to 1351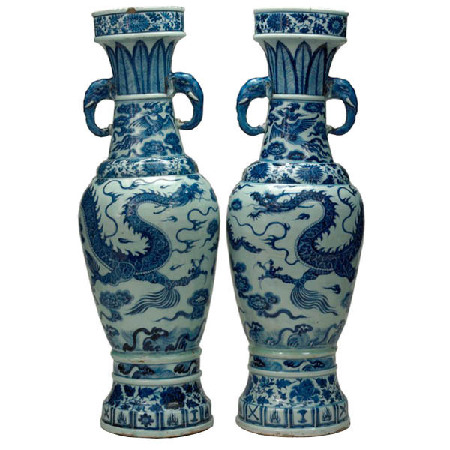 The David Vases are housed in the British Museum.
These vases are among the most important examples of blue-and-white porcelain in existence, and are probably the best-known porcelain vases in the world.
They were made for the altar of a Daoist temple and their importance lies in the dated inscriptions on one side of their necks, above the bands of dragons. The long dedication is the earliest known on Chinese blue-and-white wares.
The dedication records that in 1351 a man named Zhang Wenjin from Yushan county presented the two vases and an incense burner to a Daoist temple in Xingyuan (modern day Wuyuan county). Yushan county is in northeast Jiangxi, which lies 120 km to the southeast of Jingdezhen, where the vases were made. This inscription demonstrates that blue-and-white porcelain production was already well-underway at Jingdezhen by 1351. Originally the vases, modeled after bronze pieces, had porcelain rings attached through the elephant head shaped handles.
These vases were owned by Sir Percival David (1892–1964), who built the most important private collection of Chinese ceramics in the world.