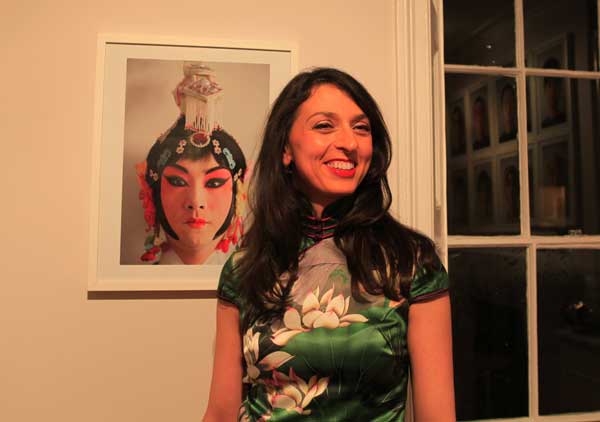 Shavrova with one of her photos at the exhibition held in London. Cecily Liu / China Daily
My China Dream | Varvara Shavrova
A Russian-Irish artist's photographs of Peking Opera give a contemporary voice to the ancient art form. Cecily Liu reports in London.
Varvara Shavrova believed she was looking at one of the most beautiful women she'd ever seen. But she was wrong.
Not about the beautiful part. About the woman part.
The Russian-Irish artist and curator was stunned when Chinese friends told her the female Peking Opera character onstage at the teahouse near the Forbidden City was actually a man.
"I said 'No'. And they said 'Yes'. And I said 'No' - and still couldn't believe it," she recalls.
But that wasn't all that captivated her about the show.
"I loved the costumes, the makeup, the movements and how it can be formulaic in its own language," Shavrova says.
"You can compare it to contemporary art."
This initial fascination prompted the Russian-Irish artist and curator to research Peking Opera's history, understand the actors' lives and document their preparations and performances in her London exhibition The Opera.
For more My China Dream,
here