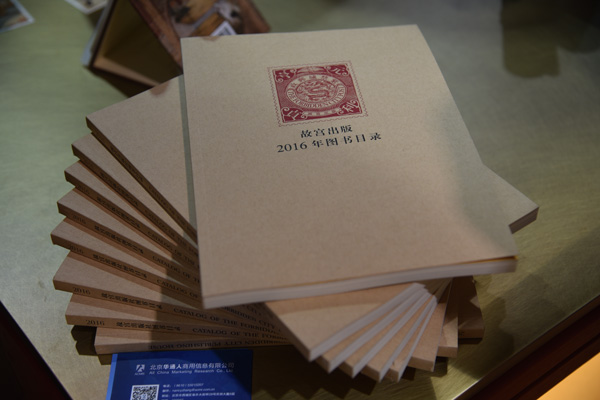 The Palace Museum Press demonstrates the publishing list guidance for viewing. [Photo by Zhang Xingjian/chinadaily.com.cn]
The Beijing International Book Fair came to a successful conclusion on August 28. During the five-day book fair, more than 1000 book-oriented events were shown at the exhibition, which attracted more than 300,000 visitors. Let's review what accomplishments the book fair achieved.
Rising Copyrights Agreements
According to the Xinhua News Agency, a total of 5018 Chinese and foreign trade agreements were reached at the book fair, a 6.3 percent increase year-on-year. Specifically, 3075 copyright outputs and publishing cooperation agreements (co-publishing agreements included) were concluded, up 6.5 percent compared to that of last year.The book fair also experienced a 5.9 percent increase on the introducing agreements of books, arriving at 1943 this year.
It is worth noting that Chinese-Dream-themed books were well-received at the book fair. For instance, Chinese Path and Chinese Dream and Chinese Dream and Zhejiang Development published by Zhejiang People Press will be introduced to German, Public of Korea, Russia, India and Albania in the near future.
Increased International Level
16 Central and Eastern European Countries (CEECs) for the first time has acted the Guest of Honor in the book fair. 69 publishing houses and exhibitors with a total of 200 people including publishers, translators, painters and artists took part in the event.
Meanwhile, 35 countries along the "Belt and Road" participated in the book fair, an increase of 13 over the same period last year. A program titled "Special Publisher Project" helped publishers from 7 countries including Georgia, Chile, and Bangladesh manage to attend the book fat and have deep exchanges with insiders.
Going Out and Innovation
Against the backdrop of "Brining in and Going out", Chinese book publishers also highlighted the book fair by stepping up their efforts to stand on the world stage.
Guangxi Normal University Press acquired the Antique Collectors' Club Publishing Group Limited in Britain, becoming the first international publisher on art and design domestically. In addition, Anhui Time Publishing and Media Co. Ltd. finalised a deal with Spanish Blue Bottle Biz on e-book platform cooperation.
In terms of digital books, the 2016 International Digital Publishing Forum focused on frontier topics such as "digital publishing business model", and "digital marketing" through inviting famous publishers to share their experiences and provide most advanced information and trends of the foreign digital publishing industry.