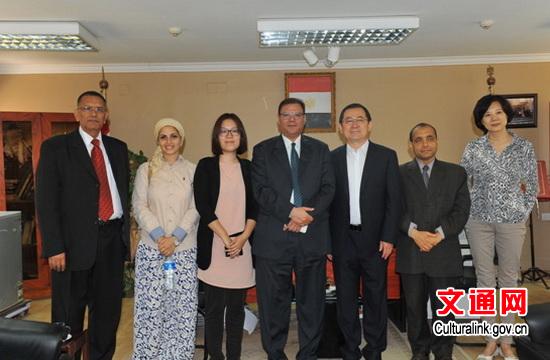 Yu Zhiyong, Ding Qing (deputy director of the China Cultural Center in Cairo), Mohammad Haddad and Egyptian archaeologists pose for a group photo. [Photo/culturalink.gov.cn]
As a part of China-Egypt Cultural Year, a lecture on "Discover China: Xinjiang and Silk Road in the Han Dynasty" was held at the Archaeology School in the prestigious Cairo University on May 23, attracting nearly 50 scholars.
Mohammad Haddad, dean of Cairo University's Archaeology School, welcomed Yu Zhiyong, head of Archaeological Institute of Xinjiang, and thanked the China Cultural Center for its support. Haddad gave a lecture on the archaeological findings that reveal the cultural connections between China and Egypt. He said antiques like Arabic-imprinted Chinese blue and white porcelain implied that China and Arab countries share a long history and friendship.
Yu Zhiyong mentioned that ethnic groups in Xinjiang Uygur autonomous region were diverse and cultural exchanges there dated way back. Thus cultural relics abound. From the Pre-Silk Road era to the Han Dynasty (206BC-220AD), and even today, Xinjiang has always been a critical point along the ancient Silk Road. Xinjiang, which witnessed exchanges between East and West in regard to economy, culture, politics, military matters and so on, will continue to play a distinctive and positive role.
After the lecture, Yu Zhiyong discussed Muslim culture in Xinjiang, Chinese history and the Niya Ruins in depth with Egyptian archaeologists and Chinese culture enthusiasts.