Surge of Chinese helps to steady Egypt's tourism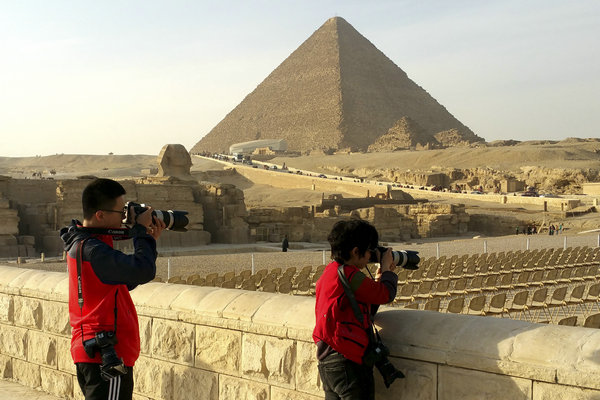 Chinese visitors take pictures of the Giza pyramids in Egypt. [Photo by Du Du/China Daily]
The number of Chinese tourists in Egypt is growing steadily and rapidly, says Samy Mahmoud, head of Egypt's tourism authority. "In 2014 we had almost 64,000 Chinese tourists, but by the end of 2015 we had over 125,000 visitors from China."
The official expects that the number will rise to 200,000 in 2016 as almost 15 regular and charter flights come to Cairo, Luxor and Hurghada every week.
Mahmoud reveals that the tourism authority contacted the Chinese ambassador in Cairo and asked him to work on allowing Chinese airlines to fly to Egypt, adding "it will be a great chance for the Chinese airlines to work in the Egyptian market".
He says that most Chinese tourists visit areas such as the Giza pyramids, the Egyptian Museum and Upper Egypt's ancient temples.
Mahmoud says there are many travel agencies in Egypt working with Chinese tourism operators.
"I can say that a one-week holiday costs around $700, and I think such a price is good for Chinese people," he says.
Tourism in Egypt was dealt a heavy blow following the Russian airplane crash in North Sinai in October, after which several countries, including Britain and Russia, suspended flights to Egypt.