Surge of Chinese helps to steady Egypt's tourism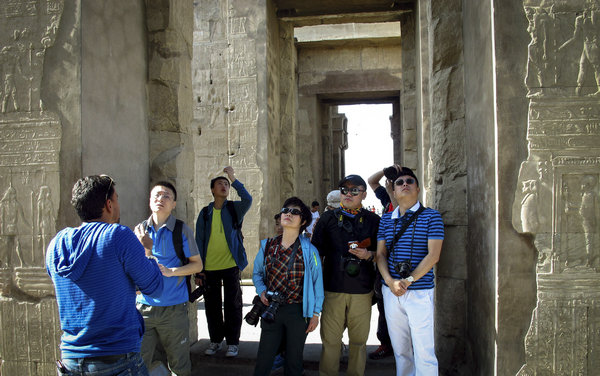 [Photo provided to China Daily]
"There is a 45 percent increase compared to the same period last year," he says.
Although many European countries stopped tourists from going into Egypt recently, he says, there are some European countries that have started sending tourists to Egypt.
"The numbers of tourists from Ukraine and Poland are growing. We have also started to attract tourists from India and Japan," Mahmoud says.
The peak of tourism in Egypt was in 2010, he says, as 14.7 million tourists visited the county, providing revenues of nearly $12.5 billion.
"But after the revolutions in 2011 and 2013, the number of tourists started to fell. By the end of 2015, the number of tourists stood at 12.2 million, providing around $6.2 billion," he says. His target this year is to attract 9 million tourists, but the government hopes to attract 20 million visitors by 2020.
Mahmoud believes that the sources of tourism must be diversified, noting that in the past Egypt has relied on four or five markets that brought in about 70 to 75 percent of its tourists.
"My message to everyone is that Egyptian airports are well secured, tourist areas are highly safe," he says.