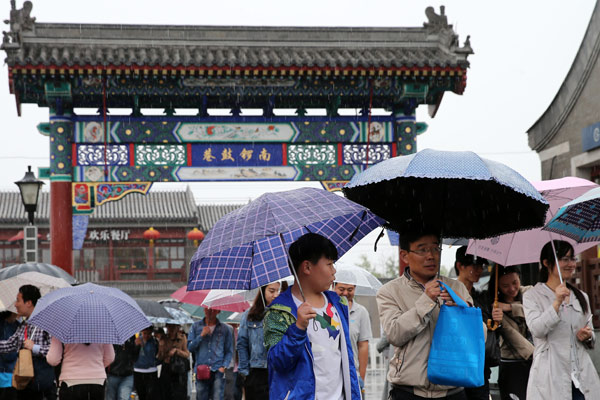 People visit Nanluoguxiang, a popular alley full of traditional Chinese elements in Beijing. [Photo by Wang Zhuangfei]
More cultural spaces will be encouraged in Beijing's highly commercialized hutong, including the popular Nanluoguxiang, according to the Dongheng district government.
The district government announced a three-year plan on Tuesday to better develop the rich historic resources in the district, bringing in more cultural establishments and activities and setting a higher entrance standard for commercial entities.
The move came after the government's ban on large tour groups in Nanluoguxiang last month to reduce the impact on residents and the potential risk to historic buildings in the 740-year-old alley, which is lined with shops, restaurants and bars.
Despite the regulation, more than 160,000 visitors on the May Day holiday weekend flocked to the 787-meter alley, which has eight narrower and symmetrical alleys on either side.
Under the plan, more than 60 percent of the establishments should be culturally-themed by the end of 2018.
While the alley will be the focal point, similar policies will apply to many other ancient hutong, including those near Yonghegong Lama Temple, to upgrade tourism in the district.
Meanwhile, the document bans the expansion of the existing wholesale market in the district and the building of retail spaces larger than 10,000 square meters. By the end of 2017, half of the small-commodity markets in the district will be removed.
Instead, the government will invest 25 million yuan ($3.8 million) and build at least eight comprehensive service complexes in three years, which will include grocery stores, barber shops and household management services.
Contact the writer at tangyue@chinadaily.com.cn