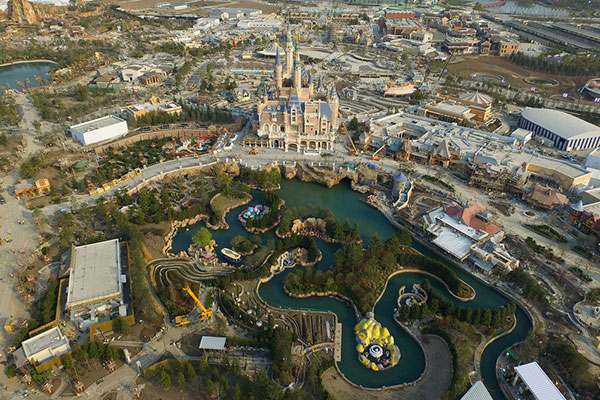 An aerial views shows that the scaffolding for the Enchanted Storybook Castle in Shanghai Disneyland has been removed on March 26, 2016. [Photo/IC]
The Shanghai Disney Land is set to kick off ticket sales on Monday.
But reports are circulating, suggesting scalpers are already turning a profit ahead of the sales.
A search for Disney Land tickets online yields around 250 results, with tickets going for anywhere from 1 to 1600 yuan ($245) each.
Weekday retail prices for the new amusement park are 370 yuan.
Weekend prices are officially set at 499 yuan.
Certain shops on Chinese online marketplace Taobao are claiming to be able to help customers book tickets, while others are offering to sell people coins, which they claim can be exchanged for tickets at the gate.
Shanghai Disney Land requires ticket holders to present their proper identification before their tickets can be accepted.
The theme park in Shanghai has been under construction for the past few years after receiving approval from authorities in late 2009.
Disney and its Chinese partner have spent close to $ 5.5 billion on Shanghai Disney Land, which will be the company's second theme park in China, but first on the mainland.
Located in Shanghai's Pudong District, Shanghai Disney Land is 3 times larger than the one in Hong Kong.
The official opening of the park is scheduled for June 16.