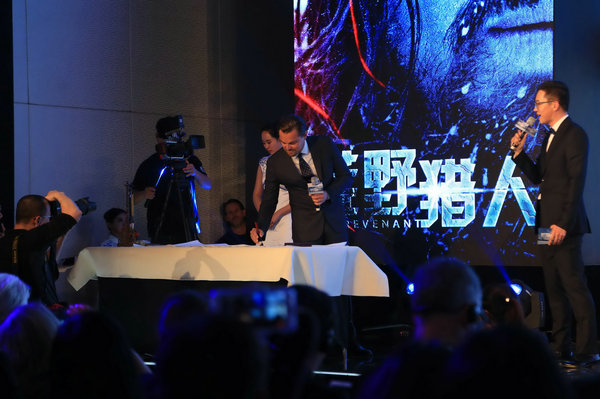 DiCaprio tries to write a Chinese character of his Chinese nickname during Sunday's film publicity event.[Photo provided to China Daily]
And local media reported that some die-hard fans spent up to 500 yuan ($76) to purchase a pass for the Sunday event.
However, it turned out to be a disappointment for fans.
Even the plan for up to 15 prearranged questions during the event's interview section was modified and the number of questions was cut to four, drawing frowns from reporters.
Giving vent to their disappointment, a few hours after the event, more than a dozen satires went viral mainly on WeChat, China's most popular instant messaging app.
The slashes were based on the event's "clumsy" format.
Despite DiCaprio saying he is a bad learner of foreign languages, the Chinese host insisted on teaching him to say "nihao" (hello), "wo ai Beijing (I love Beijing)", and "wo ai Zhongguo (I love China)".
The event, which expected to win over Chinese audiences, was mocked online when it was broadcast on some streaming sites.
As Tian Ying, a Beijing freelancer and a Hollywood movie fan, says: "Making Hollywood stars speak Chinese is too stereotyped. We love them not because they can speak a little Chinese but due to their impressive performances on the big screen."
To add insult to injury, organizers revealed that some of the tickets for Sunday's opening ceremony - where DiCaprio was to show up on the red carpet - had been stolen.
Meanwhile, the meme and jokes on DiCaprio have done no harm to the survival epic's prospects in Chinese mainland theaters.
Since it was released here on March 18, the movie has grossed more than 268 million yuan on Wednesday to top current box-office charts.
Even industry watchers regard its commercial success as rare for a film from such a genre. This is because foreign big-action movies featuring giant explosions, lethal chases, and gun fights have typically enjoyed box-office success in China.
Speaking of his role in the movie, DiCaprio says: "Not many can understand how difficult it was. You really have to immerse yourself into all the elements, including the locations and the sub-zero temperatures."