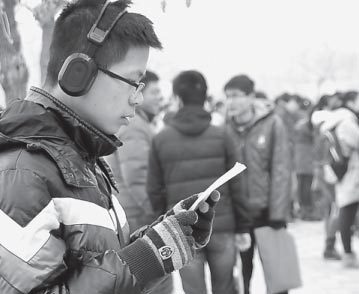 Students in Liaocheng, Shandong province are studying before taking the tests for English Majors Level 4 and Level 6. [Photo by Xu Wenhao/China Daily]
China needs more qualified translators and interpreters as it opens its gates wider to the world, especially driven by the Belt and the Road Initiative.
But, though the numbers have been growing in recent years, the quality is not up to scratch.
"China's economic growth has drawn the world's attention to our ethics and values. They want to know China's stand on things, to see China's image and to hear China's voice," says Zhou Mingwei, president of the China Academy of Translation.
He was speaking recently at the International Forum on Translators and Interpreters Education 2015.
"In communication with other countries, we need to have our own discourse which is built on proper translation and interpretation," he says, "so translators and interpreters are increasingly important these days".
Meanwhile, the volume of China's communication with the outside world has reached an unprecedented level.
Xu Hui, deputy director-general of the Department of Translation and Interpretation under the Ministry of Foreign Affairs, says that so far this year the workload for the department was double that in 2014 due to increasing diplomatic exchanges.
Lin Huifang, deputy director general of the Center for International Cooperation and Service under the Ministry of Agriculture, says that the center's translation workload this year is three times that of 2005.
Language professionals, especially interpreters are considered very valuable these days, and more language students are taking this route.