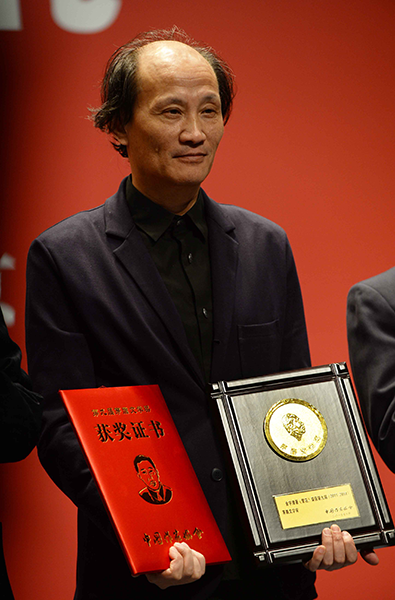 Chinese author Jin Yucheng (pictured) won this year's Mao Dun Literature Award for his novel Fan Hua, which is acclaimed as one of the best novels on Shanghai.[Photo by Wang Xiaoxi/CFP]
Last year, Jin Yucheng's Fan Hua (Blooming flowers) was taken to Salon Du Livre, France's largest book fair, along with other contemporary Chinese literary works such as Bi Feiyu's Subei Youth "Don Quixote".
The two books attracted the attention of Editions Philippe Picquier, a French publisher that specializes in translating books from China, Japan, South Korea, India, Vietnam and other countries in Asia. This publisher reportedly purchased the copyright for Subei Youth "Don Quixote", a nonfiction work about the writer's childhood in East China's Jiangsu province, for 130,000 euros ($143,000).
Editions Philippe Picquier was also interested in Fan Hua, but didn't follow up owing to translation issues.
The book is Jin's debut novel, which is set in Shanghai and tells stories of two decades: the 1960s and the '90s. There are no major plots, but excerpts from the lives of its different characters, threaded by dialogues. There are detailed depictions of streets, entertainment activities and relationships in the representative times in Shanghai, covering the "cultural revolution" (1966-76) and the reform and opening-up phases.
As Hong Kong-based film director Wong Kar-wai put it, the novel is full of a "rich and strong" flavor of local people's lives.
In May 2011, when Jin, then an editor at a literary magazine in Shanghai, started to post interesting stories he heard about Shanghai on the local website longdang.org, little did he realize that it would become more than just fun. His stories soon attracted more readers whose comments urged him to post more.
In five months, Jin, then 59, wrote more than 330,000 characters online. The novel was first titled Shanghai Abao after its major character Abao. The following year, Jin started serializing his novel in Harvest, one of China's leading literary magazines.
Finally, Jin's efforts resulted in a book in 2013, and with it came lots of awards, including this year's prestigious Mao Dun Literature Award.
Some critics compare it with fellow Shanghai-based author Eileen Chang's novels and A Dream of Red Mansions, calling Jin's book one of the best novels on Shanghai.
Wong also announced that he would adapt Jin's book for cinema by 2020.
By August, before the Mao Dun award winners were announced, Fan Hua had sold nearly 300,000 copies, Jiefang Daily reported.