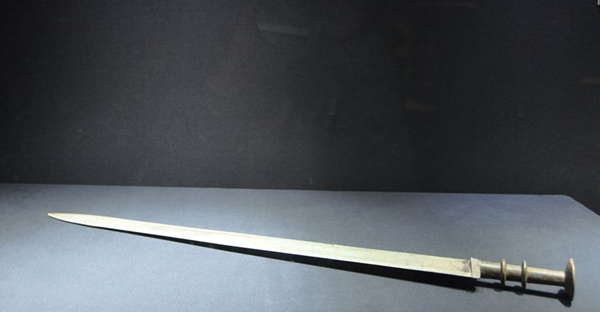 A bronze sword. [Photo/People's Daily Online]
The Jiangxi provincial government has decided to build a large Museum of Royal Tombs of the Marquis of Haihun State of the Western Han Dynasty (206BC-24AD) , with the aim of creating a world cultural park of seven square kilometers in Nanchang, east China's Jiangxi Province.
The museum to be built is expected to be the crown jewel of the whole world cultural park, according to experts of the State Administration of Cultural Heritage.
The royal tombs have attracted public attention since the provincial institute of archaeology in Jiangxi released their findings on Nov. 4, 2015.
The Marquis of Haihun cemetery under excavation covers about 46, 000 square meters and contains eight tombs and one chariot burial site. The tombs No.1, No. 3, No.4 and No. 5 and the chariot burial site have been excavated.
Archaeologists have unearthed numerous precious items from the tombs, including chariots, bronze lamps, bronze distillers, bronze cooking utensils and ancient coins.