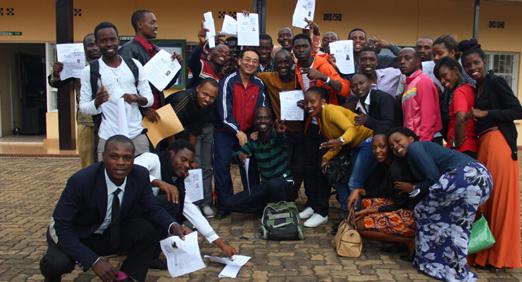 Rwandan students pose for a group photo with their Chinese teacher. [Photo/Chinesecio.com] 
Chinese nationals who teach Chinese language and martial arts to Rwandans are enjoying their stay in the small Central African country, say teachers.
The teachers, who teach Chinese and Kungfu to Rwandan citizens, especially students, are working under a Confucius Institute program run by the Chinese government.
The core mission of the program aims to help people outside China understand the Chinese culture, language and art with the purpose of fostering social and economic development between Rwanda and China.
The Confucius Institute at the University of Rwanda was opened in June 2009, after friendly negotiations between the Chongqing Normal University (CQNU) from China, and the then Kigali Institute of Education, now University of Rwanda (UR).
"I am very happy to be in Rwanda and Africa. It was my first time to be in this great continent with such a good weather. I am enjoying my stay," says Su Wen, one of the volunteer teachers.
Wen, who was nicknamed "Mucyo," a Rwandan name that means light, by his students, has been in Rwanda since 2013. He teaches Chinese language and Chinese martial arts.
The 27-year-old, a graduate of masters of art and literature from Chongqing Normal University explains that he was inspired by his mother to come to Africa because his mother loved Africa.
"I came to Rwanda because I wanted to see Africa. When I was still young, my mother told me that Africa is a beautiful place so I wanted to come to Africa and experience African culture, food, language and environment," he says.
"I came to teach Chinese language and martial arts. I first taught students in the University of Rwanda, Huye campus where I taught Chinese language and Kungfu. Then I started teaching Kungfu in the Confucius Institute at the University of Rwanda (College of Education) and Chinese Language at the University of Rwanda (College of Science and Technology)."