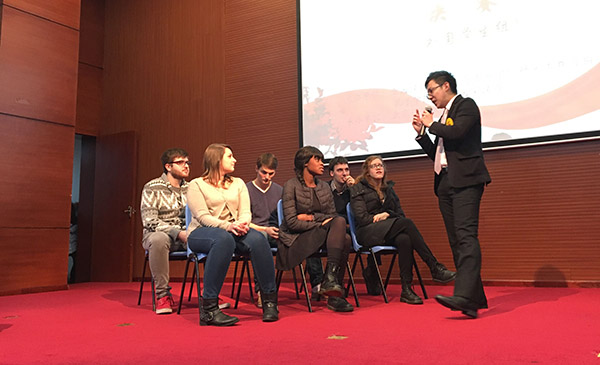 Komatsu, a student from Japan, delivers a lecture in Chinese to international students during the final competition. [Photo by Yan Dongjie/chinadaily.com.cn]
Confucius Institute is planning to send more foreign Chinese teachers back to their countries to localize Chinese teaching around the world, a professor in Beijing Language and Culture University said.
The second term of the teaching competition, Chinese International Education Masters, was held by Confucius Institute Headquarters on November 22, in which potential Chinese teachers from China, Japan, and other six countries competed.
Top-ranked competitors will get the opportunity to teach Chinese in Confucius Institutes in their countries.
"We hope that more international students get the masters degree of Teaching Chinese to Speakers of other Languages, to promote the spread of Chinese around the world," said Jiang Liping, organizer of the competition and professor in Beijing Language and Culture University.
Jiang said that native teachers could adapt to the local students more easily without cultural gaps, which usually exist between Chinese teachers and the speakers of other languages.
Confucius Institute has been appealing to International students to study for a masters degree of Teaching Chinese to Speakers of Other Languages in China since 2009.
Up to now, more than 5,000 International students from more than 100 countries have come to China for this degree, 4,500 of whom have graduated and many are working as Chinese teachers back in their countries.
Gracious Masule from Botswana was satisfied with his performance in the competition. He has been studying as a graduate student in Shanghai Normal University for more than a year, majoring in Teaching Chinese to Speakers of Other Languages.
Masule said that more and more people in Botswana are learning Chinese.
"People in my country are good at pronouncing, but bad at writing and reading," Masule said, adding that he would work on this and help people in his country learn Chinese in a more effective way.
In the final competition, competitors are required to give lessons without preparation after drawing lots for themes.
A competitor from Japan brought Chinese knots he made to the lecture, encouraging active participation from students by giving them to students as gifts.
Most of the foreign competitors assigned homework to the students at the end of their classes, which is part of the Chinese culture they learned while studying here.
Lin Yong Gui, a Thai studying at Shanghai Foreign Language University, has been learning Chinese since he was 10. He noticed that the teaching method in China is more structured, which makes teaching Chinese to people in his country easier.
Lin said that every lecture is divided into three parts according to the teaching method, namely leading-in, grammar and vocabulary, and practicing.
"With the three steps, students can accept and master the new contents easily. Only more practice is needed," Lin said.