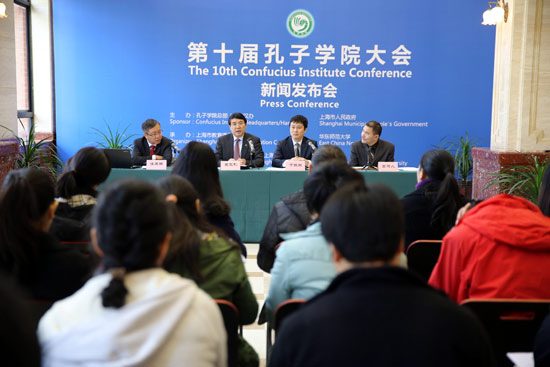 A press conference of the 10th Confucius Institute Conference was held in Shanghai on Thursday. [Photo/Hanban.org]
The Confucius Institute Headquarters announced at a press conference in Shanghai on Thursday that the 10th Confucius Institute Conference would be held in Shanghai World Expo Center from December 6 to 7 with the theme of "catering to new demand and pushing for integration".
This year's Confucius Institute Conference will be co-sponsored by Confucius Institute Headquarters (Hanban) and the Shanghai Municipal Government, co-hosted by Shanghai Municipal Education Commission and East China Normal University. More than 2,300 directors of Confucius Institutes, presidents of the host universities and foreign diplomas from 134 countries and regions throughout the world will be present at the conference.
The opening ceremony will be hosted by Yuan Guiren, Minister of Education of China. Liu Yandong, Vice Premier of China and Chairwoman of the Council of the Confucius Institute Headquarters, will deliver a keynote speech at the opening ceremony of the conference and present awards to outstanding collectives and individuals. She will also host a council of the Confucius Institute Headquarters on December 5.
There will be an evening art show with a theme of traditional Chinese culture as well as cultural integration on the same day. More than 500 overseas students in Shanghai universities and colleges will perform in the show.
In addition, nine Presidents' Forums and nine Directors' Forums will be held. Representatives will hold in-depth discussions around important issues in the development of Confucius Institutes, including news demands on Confucius Institutes in different countries, development planning for the next five years, how to deepen the cooperation between Chinese universities and their overseas counterparts, and how to coordinate Chinese education with the Belt and Road Initiative. Meanwhile, an International Chinese Teaching Resource Exhibition will also be held.