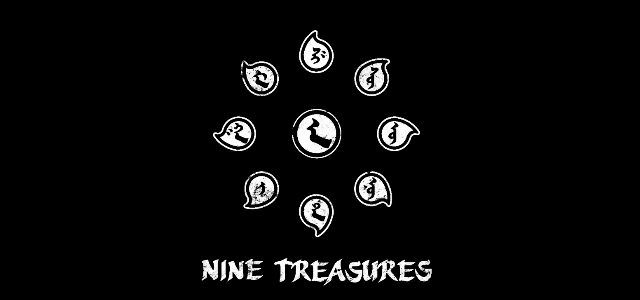 Logo of Nine Treasures. [Photo provided to chinadaily.com.cn]
How did the band name Nine Treasures come about?
Tsog: Nine Treasures stands for nine objects, namely, gold, silver, bronze, iron, agate, amber, jade, pearl and coral. These nine objects are praised in ancient Mongolian poems, one in particular, said that if the nine treasures are secured and you don't have to go out of your way to go after them, good luck will be yours. We thought it an auspicious name so decided to take it. The one who actually came up with the name is now in Hanggai, another Inner-Mongolian band.
How is metal music received in China?
Tsog: There aren't many people who would actually listen to metal. But it is okay in China, because people who come to music festivals are mostly university students; they pretty much listen to everything. But during overseas performances, we found almost all of the audiences are metal fans. We are considering dropping the label "metal music"; we'd prefer to be called Mongolian rock, or nomadic rock.
What are your songs about? Where do your ideas for writing come from?
Askhan: Some of my songs are about the environment we're living in, and others come from mythology or fairy tales – verbal or written. Arvan Ald, for example, is a song derived from a myth I heard in my family, it is a science fiction style hobgoblin story. It was passed down from generation to generation, and I kind of remember it since I heard it as a child. It naturally came into my song later.
So far you have issued two albums, what are their differences?
Askhan: The first is a bit natural, without much polish and honing. It's abundant in originality. The second album is more mature with techniques, like the transition, getting much smoother and the instruments are fitting better with each other. We try to improve with every album.
How about your new album? When will it come out and how it will different from the previous two?
Askhan: We have enough songs to make a new album now. I think the songs would be ready at the beginning of next year, and the album may come out next March or April. The style of the album is hard to describe, and we haven't come up with a name yet. It has to be decided at the last moment.
Tsog: We five will spend the next two months in Tianjin where we can actually rehearse together and make music, because we live far from each other in Beijing, and we don't have much time to rehearse together.
Do you have plans to work with foreign bands?
Askhan: A British band tried to reach me on Facebook, asking if we can cooperate because they wanna add the Morin Khuur in their music. But they seem to have some religious problems, which may cause trouble for us if we want to develop the European market. So the cooperation failed to actually take place.