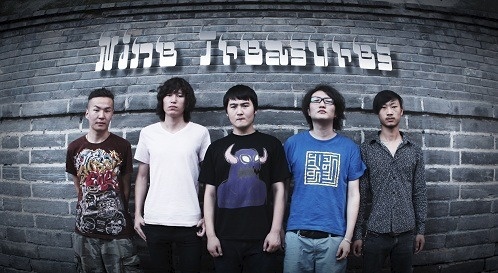 Nine Treasure members. Leading vocal Askhan (middle) is deemed as the soul character by Nine Treasure members. [Photo provided to chinadaily.com.cn]
After touring 12 cities in nine European countries, Inner-Mongolian folk metal band Nine Treasures not only made their debut in Europe a great success, but also refreshed the metal music world with a touch of Chinese ethnic characteristics.
Comments, filled with admiration, ushered in their YouTube videos and ardent fans described their music as "awesome" and "fantastic" upon watching their performances at festivals such as Wacken Open Air 2013 in Germany and Womex 2015  held in Hungary.
"Mongolian folk metal is the kind of thing I never realized was missing from my life until I heard it," said Ampulex Compressa, a German fan who claims it's their music that makes his life complete.
Despite such exuberant compliments, which never cease as Nine Treasures continues to tour cities, big and small at home and abroad since its foundation in 2011, the band members don't seem to be dazzled by the praise. "The combination of metal and folk Mongolian music is indeed still sort of new to a lot of people, and fortunately the result was not bad," said Tsog, the band's bass player.
At first hearing, Nine Treasures's music appears loud and chaotic, like a typical metal band to ears used to indie rock or folk music. But soon as you scale the hilly metal pitches, the listener will discover a unique background melody filtered by the Mongolian instrument - the Morin Khuur (traditional Mongolian bowed stringed instrument) and the Russian three-string Balalaika.
By fusing exotic Mongolian folk music and indignant metal, Nine Treasures create a clamorous uproar which members tease as "nomadic rock". The leading vocalist Askhan's coarse yet penetrating throat, which shouts out the Mongolian lyrics like incantations and prayers, simply adds icing on the cake.
Last Friday, Nine Treasures, modest and versatile singer Askhan, laidback Morin Khuur player Ding Kai and bass player Tsog, gave an interview to China Daily Website and shared with us how their music came about and their experiences touring abroad. Below are exerpts from the interview.