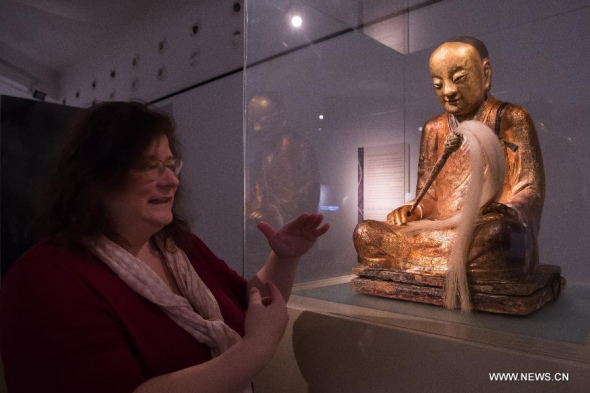 A Chinese Buddha statue with the mummified body of a Buddhist monk inside is on display at the Hungarian Natural History Museum in Budapest, Hungary on March 3, 2015. [Photo/Xinhua]
Lawyers have finished investigation and evidence collection to reclaim a 1,000-year-old Buddha statue containing a mummified monk from a Dutch owner, a villager said.
"Lawyers left the village after collecting evidence and finishing field investigation," Lin Yongtuan, a villager in Yangchun of Fujian province said.
Lin and his fellows are busy with the observance of rituals to worship the monk today.
"Although the Buddha statue was stolen in 1995, the annual ritual to worship him has never been interrupted," Lin said.
Residents in Yangchun recently found a lawyer group to represent them to reclaim the Buddha statue from Dutch owner Oscar van Overeem.
The statue grabbed global attention in February after a scan revealed it contained the mummified remains of a Buddhist monk. It was featured in the Mummy World Exhibition at the Hungarian Natural History Museum in Budapest, which had planned to display it until May, and had previously been shown at the Drents Museum in Assen in the Netherlands.
The Budapest museum subsequently announced on its website that the relic had been removed and sent back to the Netherlands at the request of the Drents Museum. Van Overeem, a private collector, had lent the artifact to the Assen museum.
In March, after seeing pictures of the statue, residents of Yangchun pointed out its resemblance to the one that was stolen from the village.
Evidence that suggests the stolen statue and the one shown in Budapest are identical has been presented by the Fujian Administration of Cultural Heritage.
However, van Overeem said he has proof that the statue did not come from the village.
He accused villagers were making up story and said he can scientifically prove villagers were wrong.
But van Overeem admitted that the Buddha is from China and told China Daily over phone that he would return the artifact to China within a month in May.
He said the statue will be enshrined in a temple near Yangchun in Fujian province. He bought the relic for 40,000 Dutch guilders ($20,500) in 1996 from a collector in Amsterdam who had acquired it in Hong Kong.
But villagers said that van Overeem's attitude changed over the past year and now asks for $20 billion to "compensate for the research and preservation for the Buddha statue for 20 years".
The State Administration of Cultural Heritage later said that they would communicate with the Dutch collector in an appropriate way, aiming to allow the Buddha return to China. 
Related:
Buddha statue dispute to be taken to Netherlands court
Buddha halls restored in China's major Tibetan Buddhist Monastery