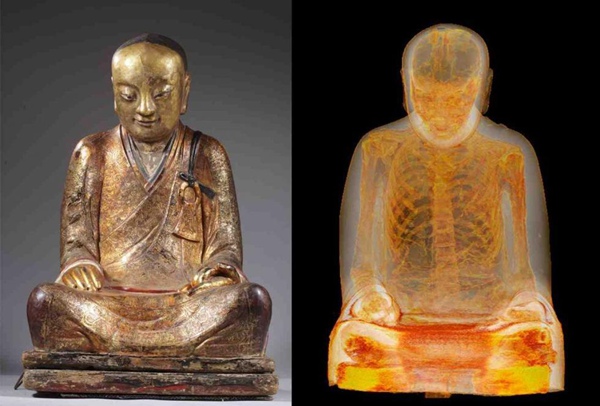 A CT scan shows a body, whose internal organs were removed, concealed in an ancient Chinese statue of a Buddha. [Photos provided by the Drents Museum]
China's State Administration of Cultural Heritage said it is working with other departments to seek the return of a Buddha statue, which concealed the body of a monk on an exhibition tour in Europe.
New evidence has emerged supporting the theory that the 1,000-year-old relic was stolen from China.
Jin Ruiguo, a n official of the State Administration of Cultural Heritage, said Tuesday that based on photos, local archives and witness statements the statue was stolen from a temple in Yangchun village in East China's Fujian province in 1995.
The department is gathering further evidence and working with others to secure the statue's return, Jin said.
The statue was included in a "Mummy World" exhibition at the Hungarian Natural History Museum, which opened in October last year.
The museum borrowed it from the Drents Museum in Assen, the Netherlands. The Dutch owner later withdrew it from the exhibition without explanation.
The collector issued a statement saying the statue was obtained in 1994 from "a sincere Chinese friend in art circles." The statue was shipped to the collector's home in Amsterdam from a workshop in Hong Kong in 1995, the same year a Buddha relic was reported stolen in China.
The statue, about 1.2 meters tall, attracted attention after a scan last year revealed it contained a mummy of a 12th century Buddhist monk, sat on a pillow reputed to be around 300 years older.

Research has shown that the mummy was named Zhanggong, an ancestor (or Zushi in Chinese) of the local clan.

As a local monk, Zhanggong became famous for treating people's diseases and spreading Buddhism. His body was mummified when he died at the age of 37, and it was later made into a statue, which has been worshipped in the village ever since.

The local temple where the statue originally sat preserves related artifacts, like the statue's hat and clothes, in the hope that it would be returned one day.

In ancient China, monks who made great achievements usually practiced self-mummification when they felt they were about to die. They stopped eating and drinking to deplete their organs in the period until death.
After a monk died, he was buried sitting in the lotus position in a clay vessel. The preserved body was decorated with paint and adorned with gold.