Gods and goddesses share sacred mountain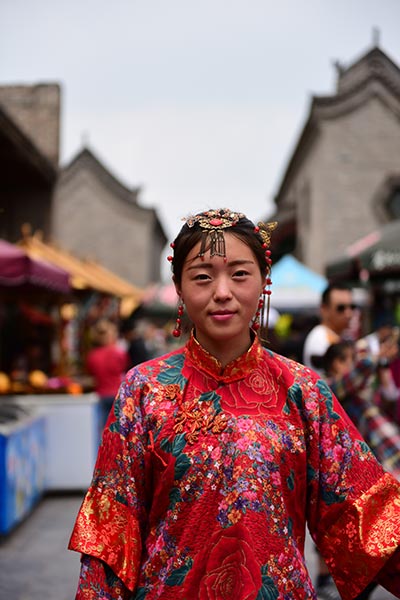 An actor at Qiao's Grand Courtyard. [Photo by Deepankar Aron/ For chinadaily.com.cn]
While on an after-dinner stroll in Wutai county, I entered an art and crafts shop containing beautiful Buddhist paintings (thangkas) where a group of Chinese were having a tea ceremony around a large table. One of them, a fluent English-speaking woman from Beijing, told me they had gathered in the town to celebrate the centenary birthday of their Buddhist master, Mang Can. A little later, she told me without any apparent pain or anxiety that for 20 years, their master had been imprisoned and he was only set free in the early '80's. But then, that's what Buddhism is all about — the sprit of endurance and preservation, even in the face of danger and destruction.
Wutai Mountain, a UNESCO World Heritage site with a history of almost 2,000 years, practically as long as the history of Buddhism in China, is a perfect embodiment of that spirit of continuing irrespective of circumstances. It maintains detachment, a philosophy that is central to Buddhism as well as Hinduism, and which is contained in the holy book called the Gita, which some say is also a manual for life.
The number of temples in Wutai Mountain has fluctuated over the last two millennium, peaking to 360 at one point. Today, there are still about 50 temples scattered around the area named after the five terraces or peaks that envelop it (wu in Chinese means five and tai means terrace). Records of Qingliang Mountain, as Wutai Mountain was called during the Ming Dynasty (1368-1644), maintained by the Buddhist master Zhengcheng, say that the first of the temples in the area, widely believed to be a pervious avatar of Da Bai Ta (the Great White Stupa), the iconic image of Wutai Mountain today, was built around AD 68. Our tour guide Ji Ling said this was the second Buddhist temple to be built in China, just about a year after Baima Si (White Horse Temple) was established in Luoyang. It seemed fitting that I visit here after seeing Baima Si earlier in April.