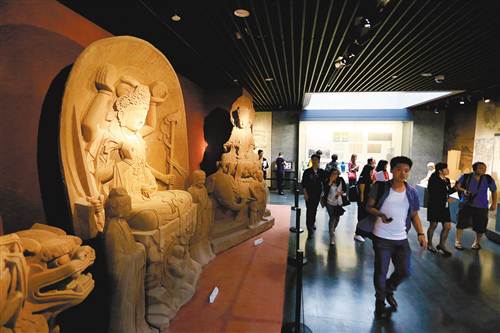 People visit the Dazu Rock Carvings Museum, Sept 20, 2015. [Photo/Chongqing Daily]
A museum displaying China's World Heritage Listed rock carvings opened its doors to the public in Southwest China's municipality earlier this month.
Nearly 1,000 fragments of rock carvings are on display at the Dazu Rock Carvings Museum, which covers 6,500 square meters, Li Fangyin, head of the Academy of Dazu Rock Carvings, said on Monday.
More than 50,000 individual rock carvings lie in the grottoes of Chongqing's Dazu county. The carvings date from the 9th to 13th centuries and were placed on the World Heritage List by the United Nations Educational, Scientific and Cultural Organization (UNESCO) in 1999.
In addition to the artworks, the museum also uses digital and multimedia devices to showcase the history of rock carving and heritage protection efforts, such as the restoration of the sculpture of Qianshou Guanyin, the bodhisattva with a thousand hands associated with compassion as venerated by East Asian Buddhists.
Technicians finished revamping the sculpture, which was carved about 800 years ago during the Southern Song Dynasty (1127 to 1276), after seven years' work in June.
Over the centuries, the statue's color has faded, some of the gold foil covering her has peeled off, cracks have appeared and in 2007, part of one of her many fingers fell off.